The name "Duterte" has been widely known not only in the Philippines but also all over the world. Japanese news even mentioned him and explained his recent alleged cursing of US President Barrack Obama. Meanwhile, major international news outlets like Time Magazine, Washington Post, LA Times, and more have painted Duterte in a bad light.
His bluntness, aggressive approach, and foul mouth may be seen as negative attributes but his fans love these things about him. Whenever Duterte says something seemingly offensive, his camp and his followers all claim that he said things in jest and that they shouldn't be taken seriously.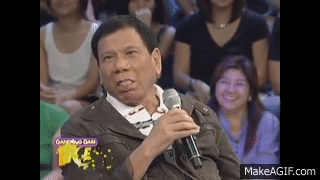 We have compiled some of the most controversial jokes he made starting from his campaign to the presidency seat up until now that he's elected.
1. "Son of a whore" Pope
Before winning the elections, Duterte was under fire for calling Pope Francis a "son of a whore" because of the heavy traffic he caused when he visited the country. According to his spokesperson, it was just a banter made during his campaign so it shouldn't be taken seriously. In line with this, Duterte has repeatedly said that he wants to go to Vatican to personally apologize to the Pope whether he loses or wins.
READ ALSO: 6 Duterte Failures Guaranteed To Make You Feel Better About Yourself
2. On leaving the United Nations
Duterte made a remark that the UN shouldn't meddle with how he's handling the current war on drugs. The UN chimed in because of various human rights violation reports regarding the extra-judicial killings. President Duterte threatened to leave the UN but claimed that it was just a joke a few days after. He even said: "Can't you take a joke?"
3. Going to war with China
The 16th president of the Philippines bluntly joked about going to war with China amidst the fight over territory parts of South China Sea. He joked that we may not have missiles to fight them but we might have a fight via hand-to-hand combat.
4. Disabled jokes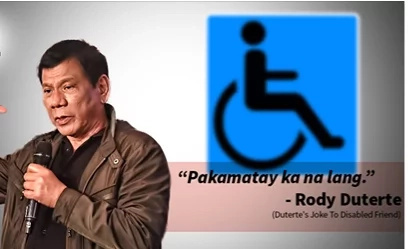 During one of his campaign rallies in Kalibo Aklan, he joked about his friend who had a stroke and about a disabled man. He told the audience that his 'classmate' who suffered a stroke should just kill himself right after mocking his gestures. Not long after, he also talked about an old disabled man and mimicked how he acted due to his spinal problems.
READ ALSO: After rape joke, Duterte ridicules disabled
5. Calling US Ambassador "Bakla"
Duterte called United States Ambassador Philip Goldberg a homosexual last August at Camp Lapu-Lapu in Cebu City. He recalled that when he met with him, he didn't like how Goldberg meddled with Philippine elections saying that he's "not supposed to do that." The President also joked that he should insult the Americans more because United States Secretary of State John Kerry promised to $32 million right after he met with Goldberg.
6. "Beautiful" Leni Robredo as "Assistant President"
Before the elections, Duterte stated his admiration to Liberal Party's Vice President candidate Leni Robredo because she's "beautiful." He even said that if she doesn't win, he'd make her his "assistant president."
7. Pardoning himself
When his term ends on 2022, he joked that he will pardon himself for multiple murders. He really can't do that though, but he also added that he couldn't be charged with any cases because by then he'll be 71. According to him, people should read the "Revised Penal code" because it's only applicable up to people who are 70 years old.
READ ALSO: Duterte to pardon cops abusing authority?
8. De Lima "I will kill you … with love"
All eyes are on Senator Leila De Lima after Duterte lambasted her on national television. Following that, De Lima has been very vocal about her allegations against Duterte and his camp. Back in June, he joked about her that if she doesn't "shut her mouth, I will kill her … with love."
9. "Mayor dapat ang mauna"
The most controversial of all Duterte jokes is his comment on the Australian missionary woman who got raped back in 1989 during a hostage crisis. He commented that she saw her personally when she was dead already and that he was angry that she got raped. In addition to that, however, he joked that he should have been the first one. Because his comments on the Australian woman were filmed, it got viral on the Internet even reaching International news and it enraged many people from around the world.
RELATED: 6 photos of Duterte and De Lima stealing the spotlight from PH celebrities
Source: Kami.com.ph