- President Rodrigo Duterte strikes the European Union (EU) after criticizing his war on drugs
- Duterte told EU during his speech in Davao City: "F*ck you"
- Duterte insisted that members of the EU also committed human rights violations in the past
President Rodrigo Duterte on Tuesday expressed anger to the European Union (EU) after the European Parliament issued a resolution which urges the Philippine authorities to investigate on Duterte's war on drugs and its rising death toll.
"Iyong nabasa ko ang EU condemnation sa akin, sabihin ko sa kanila, 'F— you.' You are doing it in atonement of your sins. Ginawa nilang istrikto-istrikto kasi may guilt feelings iyan sila. Ako dito, sino ang pinatay ko, assuming it to be true? 1,007? Who are they? Criminals? You call it genocide? Ilan ang pinatay nila?" Duterte said during his speech at SMX Convention Center in Davao City for the Sulong Pilipinas-Local Governance Dialogues.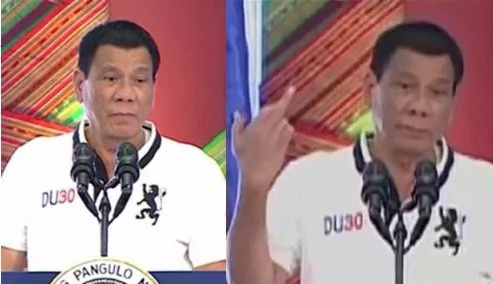 READ ALSO: Humble Duterte surprises journalists by urging them to criticize him
(I have read the EU condemnation to me, I tell them, 'F*ck you'. You aredoing it in atonement of your sins. They became strict because they have guilt feelings. While I, who did I kill, assuming it to be true? 1,700? Who are they? Criminals? You call it genocide?How many did they kill?)
According to Duterte, some EU nations have also committed violations of human rights in the past while occupying other countries.
He added:"Tapos itong EU ngayon has the gall to condemn me. Sige, I repeat it, f*ck you," before raising his middle finger in front of the audience which was followed by applause.
READ ALSO: Everything You Need To Know About Duterte's FEAR behind 3 ASEAN meetings
Duterte has been a subject of condemnation among international critics after his profane response when criticized regarding the rising death toll as a result of his drug war.
He had threatened to leave the United Nations after officials on human rights asked him to investigate the deaths, responding negatively regarding the discussion of human rights with US President Barack Obama.
READ ALSO: Palace stresses admin critics should have 'moral ascendancy'
Source: Kami.com.ph