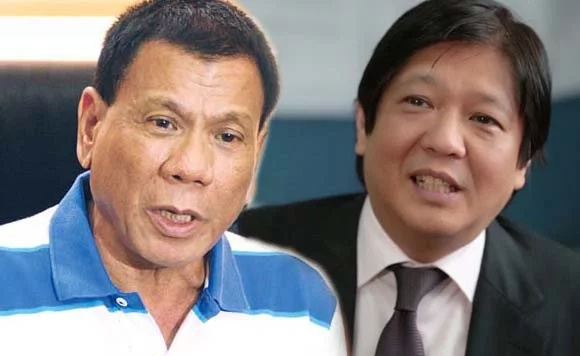 It was Duterte's 71st birthday last Monday night, and as with all birthdays, friends from everywhere greeted the presidential candidate.
But there was one greeting that stood out from the rest.
On March 28, 2016 at 9:40pm, Bongbong Marcos Jr posted a birthday greeting on his page to Davao City Mayor Rodrigo Duterte for his 71st birthday. The greeting was in the form of a poem, and a picture where the two candidates were sitting beside each other. The poem read:
May mayor kung tawagi'y Digong
Ang kaibiga'y pangalang Bongbong
From North to South
Be happy and shout
Birthday mo, saan ang blowout?
May mayor kung tawagi'y DigongAng kaibiga'y pangalang BongbongFrom North to SouthBe happy and shoutBirthday mo, saan ang blowout?

Posted by Bongbong Marcos on Monday, March 28, 2016
As of 5:57pm, the post had 3,505 shares and more than 37,000 reactions.
Marcos has said that should he win as vice president, he is ready to work with any elected president, including Duterte, whom he once described as one of his "longtime bestfriends."
Duterte, in one of his more controversial statements, has said that if his plans of ridding the country of corruption, drugs and criminality within three to six months, he will allow Bongbong Marcos to take over his presidency.
Read more here: Duterte: I'll let Bongbong take over if I don't resolve crimes in 3 months
Duterte's father was a member of the cabinet of the late dictator President Ferdinand Marcos. He has also stated that if he becomes president, he will allow the remains of the late president to be buried at the Libingan ng mga Bayani, a move that has angered many groups and people who have spoken about the Martial Law and its atrocities.
Bongbong Marcos is the vice-presidential candidate for the Nacionalista party, and Rodrigo Duterte is the standard bearer of PDP-Laban.
photo from globalbalita.com
Source: Kami.com.ph