Netizens criticize Manila Standard for insensitive headline
- News agency Manila Standardhas been criticized by netizens for their controversial headline about Senator Leila De Lima
- Their September 21, 2016 issue shows one of their headlines saying: "Witnesses finger Leila"
- Some netizens were not pleased with the headline while some defended that it is acceptable
Broadsheet newspaper Manila Standard has been a subject of criticisms when their September 21, 2016 issue was published.
Written on the headline were three words: "Witnesses finger Leila" which immediately caught the attention of netizens who were not pleased by the news agency's use of words.
A certain Chris Delacruz posted on his Facebook account a photo of the newspaper showing the headline. He wrote in the caption: "I am not a fan of De Lima at all as I believe she was a failure as Secretary of Justice who bled too much yellow, but why resort to this kind of headline. As an English language trainer, diction (choice of words) is important in speech. Sorry, Manila Standard, but your standard is nothing to admire. Your editors have stooped so low. May I suggest better verbs: implicate, accuse, or if your really want to use that word, how about finger-point?"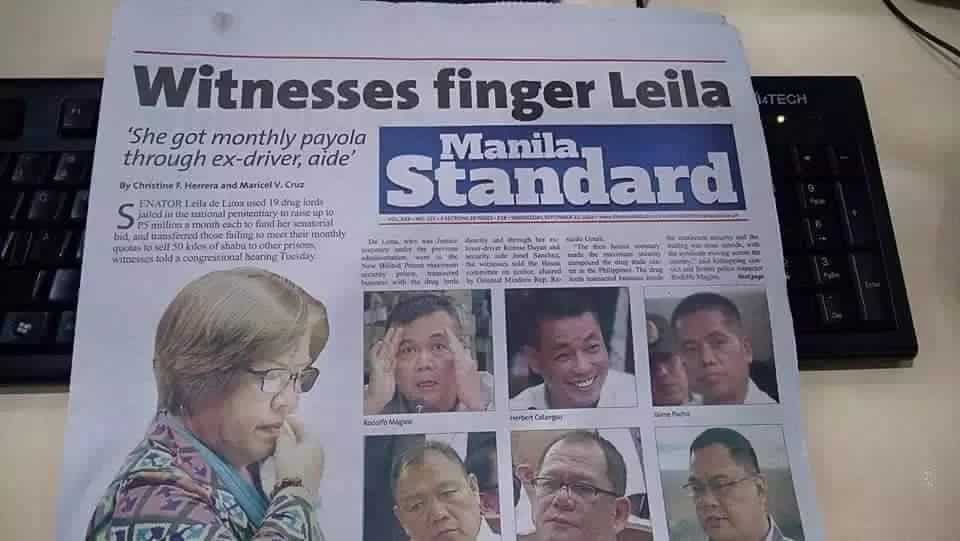 READ ALSO: Bakbakan sa Kongreso! Notorious Bilibid convicts pin down embattled De Lima
One netizen compared the broadsheet to a tabloid and said: "Parang tabloid lng ehhhhh, yung nababasa mo na may mga advices about the perfect position nawawala na class ng mga journalist ngayon."
Another Facebook user criticized the news agency for making the headline just to gain profit. He said: "They thought that by doing this people would buy their paper. But the garbage bin is waiting or best in the slum area they can donate as wipes for arses."
However, some netizens explained that the word "finger" is actually acceptable and that some might have just associated it with something else.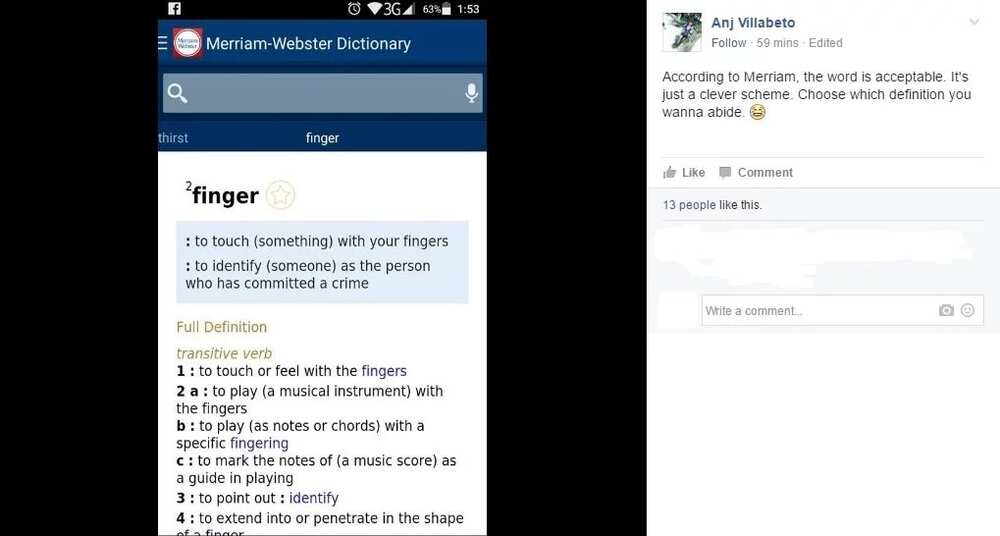 READ ALSO: #Palaban: Angry De Lima slams her staunch critics for 'fabricating' evidence
One netizen explained: "Any normal reader will get what it means. Ibig sabihin niyan kaya ka nag react ay dahil you associate the word with something else. Huwag na magpanggap pa, you have a dirty mind. That word have already been used long ago pa ng mga sinaunang newspaper all over the world. Walang perpekto sa atin. Wag na magmalinis pa."
The article with the same headline was also published on the website of Manila Standard.
READ ALSO: VIP inmate Herbert Colangco volunteers to testify against De Lima
Source: KAMI.com.gh