Jack Russell terrier fights of 3 lion cubs that are after his lunch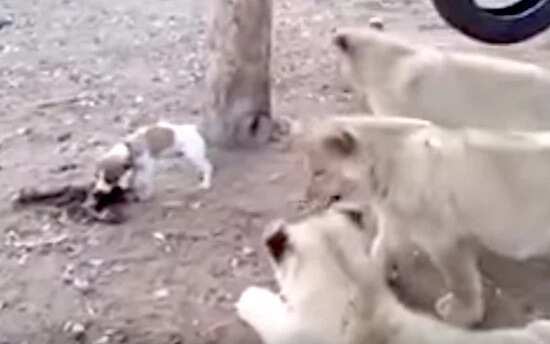 - In the following video a small Jack Russell terrier is fighting off three lion cubs that are after his lunch
- Despite his small size and being outnumbered the dog fights off the lion cubs
- The video is driving people crazy on the internet and has gone viral on social media
This little dog doesn't care that he's outnumbered and outweighed by the three lion cubs that are after his snack.
The small Jack-Russell terrier just keeps on eating his lunch while three large lion cubs are circling and eyeing the dog's food.
READ ALSO: This girl was caught with her pants down taking butt selfies!
When one of the lions tries to approach the puppy's food the dog instantly leaps in front of the lion and instantly attacks.
Many dog owners are not surprised by the Jack-Russell's behavior. It seems that a disregard toward size and being outmatched is normal behavior in this brave. However the question arises if this is truly being brave or is the small dog just fearless?
READ ALSO: Shocking footage of how a diver was attacked by a giant shark
READ ALSO: Live stream captured the moment a Pokemon Go player got robbed
Source: KAMI.com.gh