A video clip showing a little girl dangerously hanging outside the window of a tall building had gone viral, with many netizens slamming the parents of the child for not keeping an eye on her.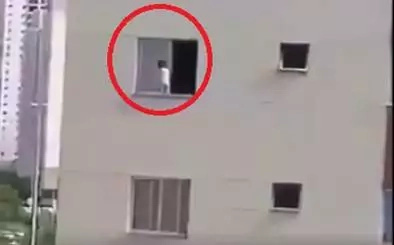 The video shows the girl standing on the edge of the window. Moments later, the child decided to walk on the other end of the window.
With the strong wind and the narrow platform, the possibility of the child falling is enormous. It would obviously lead to her death since the building is very high.
READ ALSO: Sobrang brutal! Curious kids violently crash their dad's motorcycle into van
Fortunately, the playful girl survived the dangerous incident and was able to get back to the safety of her room inside the building.
Many netizens commented that the video clip was too heart-stopping and suspenseful to watch since the girl could fall to her death anytime.
"Halos hindi ko mapanood to.. Lakas ng kaba ko. Ingatan nating mabuti ang ating mga anak," a netizen wrote.
(I had a difficult time watching this. I felt very nervous. Let us take good care of our children.)
Other netizens were outraged by the person who captured the video for allegedly not doing anything to help.
"Talagang vinideohan pa imbes na sumigaw or humingi ng agarang tulong ano?" an online user commented.
(He really took a video instead of shouting or asking for immediate help?)
READ ALSO: #Counterflow: Reckless driver causes violent multi-car crash in Las Piñas
However, several netizens pointed out that the person who captured the video was too far away from the girl to do anything and that he must have already contacted the authorities about it without the viewers' knowledge.
Other online users also pointed out that building windows need to have a safety bar in order to protect people from falling to death.
SHARE this intense video with your family and friends!
READ ALSO: Away na to! Aggressive policeman attacks scared truck driver in Bulacan
Source: Kami.com.ph