- CCTV shows two kids crashing their dad's motorcycle into a moving van
- The accident happened when the father left his two kids on the motorcycle without turning off the engine
- Many netizens criticized the father for being careless and endangering the lives of his children
CCTV footage showing two young children riding their dad's motorcycle and crashing into a moving van had gone viral, with many netizens outraged by the lack of parental supervision over the curious kids.
The video shows the father talking with someone as his two kids sit on the parked motorcycle. Unfortunately, the father was unable to turn off the motorbike's engine.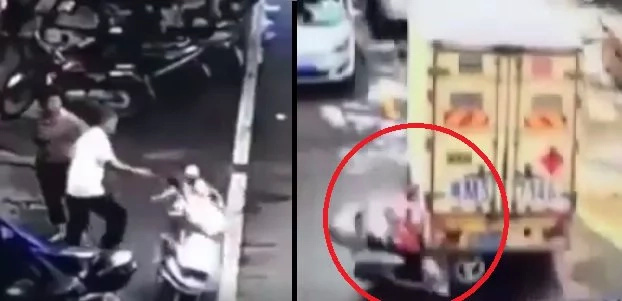 READ ALSO: #Counterflow: Reckless driver causes violent multi-car crash in Las Piñas
The curious kids then decided to play with the motorcycle which resulted in a violent crash involving an unsuspecting van driver.
The father can be seen panicking as he immediately rushed to check on the condition of his kids lying on the ground hurt.
Many netizens blamed the father for not keeping a close eye on his kids who were on the motorcycle.
"Alam natin hindi niya gsto yung nangyari, pero mali na bumaba ka ng motor at hindi mo pinatay ang makina.. Pinabayaan mo mga anak mo diyan," a netizen lamented.
(We know that the father did not intend for this to happen, but it is wrong to get off a motorcycle without turning off the engine. You failed to protect your children there.)
READ ALSO: Away na to! Aggressive policeman attacks scared truck driver in Bulacan
On the other hand, several netizens urged the online community not to blame the father because everyone makes silly mistakes from time to time.
"Aksidente...Walang my gusto.... Hopefully ok yung mga bata," an online user said.
(This was an accident. Nobody wanted it to happen. Hopefully, the kids are doing okay.)
SHARE this shocking video with your family and friends, especially with those who ride motorcycles!
READ ALSO: Ang yabang! This drunk guy says he's a policeman, curses jeepney passengers
Source: Kami.com.ph