Duterte tells complainants: "Go to Hell!"
Presidential candidate Davao City Mayor Rodridgo Duterte told the Commission on Human Rights (CHR) and the women's groups which filed a complaint against his rape remark to "Go to Hell!" and asserted his right to speech.
"Human rights? Idemanda ako? You go to hell! You go to hell! That's my... Human rights? You go to hell!" Duterte told a crowd.
In his campaign rally in Kailbo, Aklan, the tough-talking mayor lambasted his complainants and dismissed them as merely paid to attack him, adding that he will not answer the summons of the CHR. He asserted his freedom of expression in an expletive-ridden speech that drew cheers and laughter from the crowd.
"You know, this is a democracy. There is a Constitution. Ang pinaka-importante, cardinal rights... freedom of expression!" Duterte said.
"It is a sacred right. Nobody can question my mouth!" he added.
Duterte pertained to Article III Section 4 of the Bill of Rights provides that: "No law shall be passed abridging the freedom of speech, of expression, or of the press, or the right of the people peaceably to assemble and petition the government for redress of grievances."
Women's groups on Wednesday filed a complaint with the CHR after Duterte said in a campaign speech recorded on video that he wished to have been the first to rape an Australian missionary, who was gang-raped and killed in a Davao prison riot in 1989.
"As a public official, an incumbent Mayor of Davao City, and now seeking to win the highest position of the land, Mr. Duterte is expected to be an exemplar of a respectable, law-abiding citizen. Instead, he arrogantly flaunts his power over these women and diminishes their worth as human beings," the complaint read.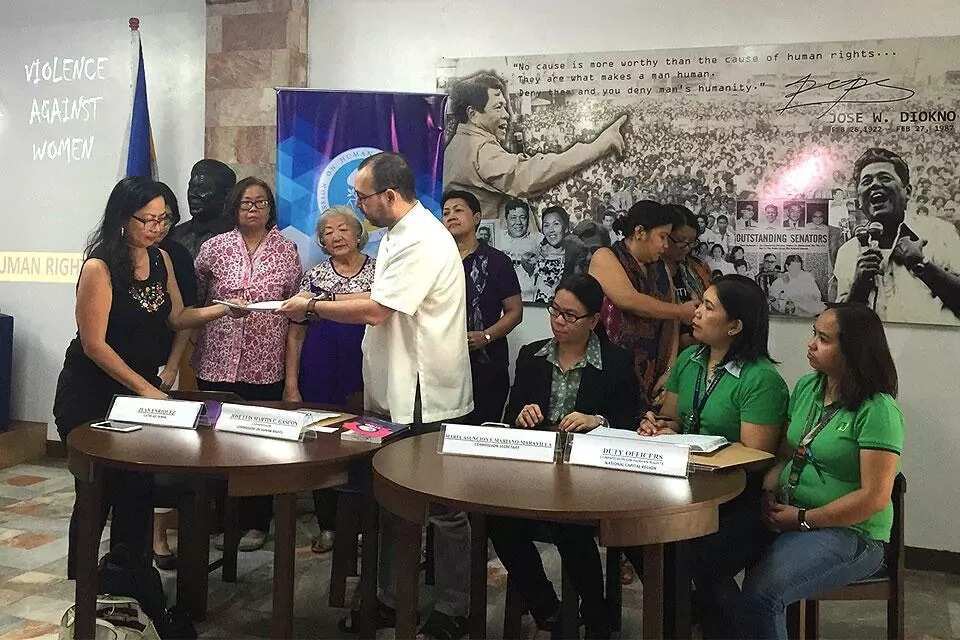 The rape remark by Duterte has been widely criticized by various sectors even by the Australian and the United States ambassadors, and covered by local and international media.
Duterte at first said that he will not say sorry for his remarks and clarified that it was an expression of anger. Confusion then arose when his camp released an apology and he denied approving it. Finally, in an interview with ABS-CBN, Duterte took back his word and said that he has already apologized.
They said that the Mayor's remarks is a violation of the Magna Carta for Women (MCW) and found Duterte's apology insincere.
As posted in the Philippine Commission on Women website, Republic Act 9710, also known as the Magna Carta of Women, is a "comprehensive women's human rights law that seeks to eliminate discrimination through the recognition, protection, fulfilment and promotion of the rights of Filipino women, especially those belonging in the marginalized sectors of the society." MCW conveys a framework of rights for women based directly on international law.
The complaint has already been accepted by the CHR and is expected to undergo a formal process including getting the reply from Mayor Duterte.
Source: KAMI.com.gh