EDITOR'S NOTE: This column contains themes and language that are not be suitable for minors. Parental guidance is strongly advised.
Videos of a policeman attacking a truck driver in Bulacan had gone viral, with netizens divided on who should be blamed for the intense incident.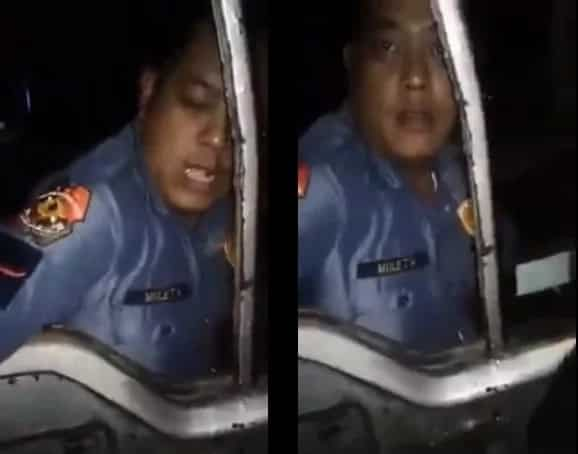 The videos were taken by a truck driver while the policeman – PO1 Muleta – was trying to open the door of his truck.
The driver can be heard repeatedly asking what his violation was. However, the policeman refuses to answer his question and can even be heard cursing the driver multiple times.
READ ALSO: Real-life Pinoy superhero miraculously rescues helpless baby from brutal fall
The truck driver also alleged that the cop threw punches at him.
"Hinaras ako kninang mdaling araw hinuhuli nya ako wla nman akong violation. Pilit nya ako pinababa s truck at pinag susuntok nya ako," the driver posted.
(I was harassed earlier this morning. He was trying to arrest me even if I did not commit any violation. He was forcing me to get off the truck and he threw punches at me.)
However, an online user who claimed to be the duty officer defended the aggressive policeman. The online user said that the truck driver had already been warned twice about parking at the highway.
READ ALSO: Galit na galit! Violent security guards brutally beat up tricycle driver in Tarlac mall
"Bago pa ang video na yan 2 beses na yang sinita na wag iparada sa highway ng meyc ang 10wheeler na truck na dala nila..sa halip na sumunod nagpaikot ikot siya sa circle ng meycauayan exit.. Hanggang sa nilapitan na siya ng pulis at yan ang video niya," the online user claimed.
(Before that video was taken, he was already warned twice about parking his 10-wheeler truck at the Meyc highway. Instead of heeding the warning, the driver drove his truck in circles at the Meycauayan exit until the police approached him, which can be seen in the video.)
Many netizens pointed out that the policeman still had no right to physically and verbally harass the driver even if he did something wrong.
SHARE these intense videos with your family and friends!
READ ALSO: Clumsy Pinoy security guard playing with his gun brutally shoots himself
Source: Kami.com.ph