Estrada pushes for e-trike program in Manila
- Mayor Ejercito Estrada will be phasing out gasoline-run tricycles, pedicabs, and kuligligs in Manila City starting October 15
- This is part of his project to make Manila as the e-trike capital of the country
- There will be 10,000 e-trikes to be distributed to drivers
Gasoline-run tricycles, pedicabs, and kuligligs will no longer be allowed on Manila City streets by October 15.
Mayor Joseph Estrada revealed that the Manila City government is on the process of phasing out all gasoline-run tricycles and similar public transportation is part of his vision to transform the city into an electronic tricycle or e-trike capital.
"By (Oct. 15), strictly there will be no more kuligligs, gasoline-run tricycles and pedicabs. We want Manila to become the e-trike capital of the Philippines and to make Manila a green city," the mayor said.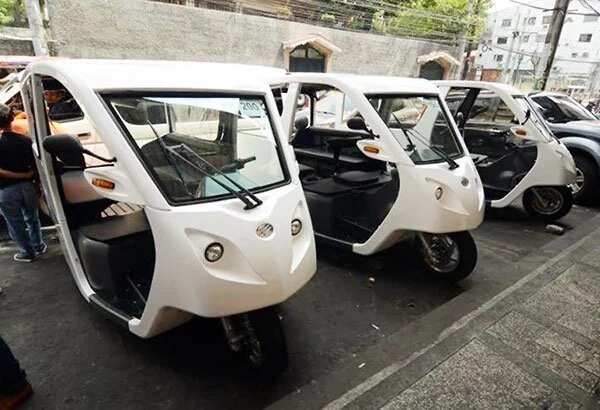 READ ALSO: LOOK! Erap has found a new target to clean up
At present, there are at least 25,000 tricycles, pedicabs, and kuligligs in the city that are still run by gasoline. This number is part of those that are "without a franchise."
Meanwhile, the city government has allotted P120 million as the initial amount to purchase at least 10,000 7-seater e-trike. The amount has been approved through a requisite resolution from the city council.
One of the advantages of using an e-trike is that it can be fully charged within a matter of 4 hours and can travel up to 80 kilometers before it needs another charging session.
READ ALSO: ER Ejercito wants PNoy in prison; find out why
The purchased e-trikes, on the other hand, will be given only to qualified tricycle drivers and bona fide city residents  who are going to lose their source of income as a result of the phaseout. They will also be given orange-colored uniforms.
"Tricycle drivers are paying a daily boundary of P150 and are spending P200 for their gasoline. That is P350 per day. On an e-trike, they will not spend a single centavo for gasoline. The battery charging will be shouldered by the city government," Estrada said.
With his program, the money used to buy gasoline will be used to pay the rent of the e-trike. The mayor said the price for the rent ranges between P150 and P200 per day. Drivers will be paying this amount for four years.
"Even if we will require them to pay more than P200, it will still be favorable to them because they will still earn money more than what they are earning at present," Estrada added. -Kami Media
READ ALSO: Sandigan calls for JV Ejercito's arrest
Source: KAMI.com.gh