Trillanes files for DDS query under EJK probe
- Senator Trillanes filed a resolution seeking for the Davao Death Squad killings to be included in the current EJK investigation
- A witness who confessed to be part of Davao Death Squad has been denied the protective custody
- Trillanes also had a heated argument with Sen. Alan Cayetano last Thursday
Senator Antonio Trillanes IV filed a motion to include in the investigations the killings allegedly ordered by the Davao Death Squad in the present probe into summary executions under the administration.
On September 19, the senator filed a resolution after Senate President Aquilino Pimentel III denied the provision of protective custody to witness self-confessed Davao Death Squad Edgar Motabato.
The resolution known as Resolution 151 recommends that the same committee should include in the investigation on the Davao Death Squad as this would serve as aid of legislation on the extrajudicial killings.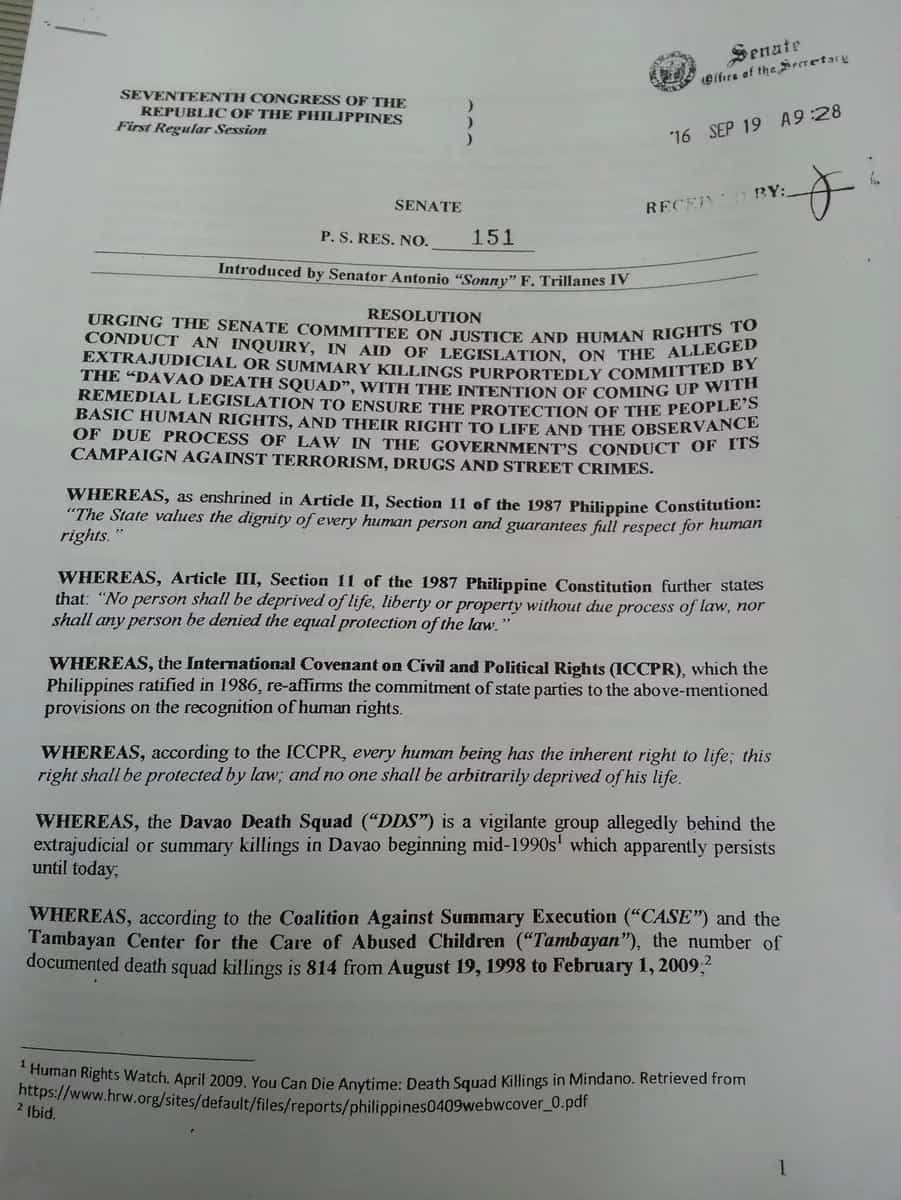 READ ALSO: Patawad po! Trillanes apologizes to Cayetano for emotional outbursts during EJK hearing
It can be recalled that the committee on justice and human rights' requested that Motabato be given such protective custody. Pimentel earlier argued that Motabato's statement was "off topic" in relation to Senate Resolution 9, the original purpose of the supposed meeting last September 15.
Resolution 9, on the other hand, was filed by first-time Senator Leila De Lima. It specifies that only extrajudicial killings from May 2016 up to present are included in the investigation.
According to Trillanes, there is an "immediate need" to probe the alleged DDS killings so that a law to protect people's rights can be done. This is amidst the present administration's strong campaign against terrorism and illegal drugs.
To support his resolution, Trillanes cited reports from the Commission on Human Rights in 2009, when Senator Leila De Lima was the chairperson. He argued that 206 deaths recorded between the years 2005 and 2009 were attributed to the alleged vigilante group.
READ ALSO: Rambol sa Senado: Defiant Trillanes justifies controversial actions vs Cayetano
107 of these deaths involved individuals who were believed to have been involved in illegal activities.
However, Pimentel once again argued that the new resolution filed by Trillanes does not necessarily refer to De Lima's justice committee.
"Kasi kung unsolved killings, baka hindi na iyan sa committee on justice. Kung failure of the police to prevent killings, baka sa public order na 'yan babagsak. At kung hahabulin at aalamin sino ang dapat file-an ng kaso, baka sa blue ribbon na iyan," Pimentel said on Sunday.
(Because if it's unresolved killings, it might not go to the committee on justice. If it's about the failure of the police to prevent killings, it might go to public order. And if it's about running after or knowing who should face charges, it might go to the blue ribbon.) -Kami Media
READ ALSO: Harsh! This group sings an anti-De Lima song to express hatred and disappointment
Source: KAMI.com.gh