- President Rodrigo Duterte was in Davao City earlier today to visit and distribute monetary aid to the victims of the Davao City blast 
- He addressed the ongoing skirmish in Mindanao in his speech, then warned the audience of another possible bombing by a Moro rebel group
- The group's younger leaders reasoned that unless American troops leave Mindanao, they will continue to bomb various areas in the country 
"Why is there so much hatred in Mindanao?"
President Rodrigo Duterte addressed the problem during his speech at Davao City earlier today when he visited victims of the blast and their families.
According to the tough-talking president, he has been all over Mindanao trying to talk with the Moros about the ongoing skirmish between them and their Christian counterparts. He shared that there was this one group that needed convincing before the peace talks could resume.
READ ALSO: Muling malaya! Norwegian hostage of notorious group Abu Sayyaf gets released
However, he was able to persuade the older leaders of the group but found it challenging that the younger ones did not yield easily.
"We can talk to you about other things, but we will not talk about peace. Until now, Americans are still directing the war against us," was the statement of the group's younger leaders to the president.
They also thought that he has besmirched their history when he showed the picture of their ancestors during the recently-concluded ASEAN Summit in Laos.
READ ALSO: Syrian rebel accidently kills himself and all his friends in a literal photo-bombing
The photo, which showed that Americans killed the Moros' forebearers, was also used by the president to retaliate against the talks on human rights his detractors have heaped on him.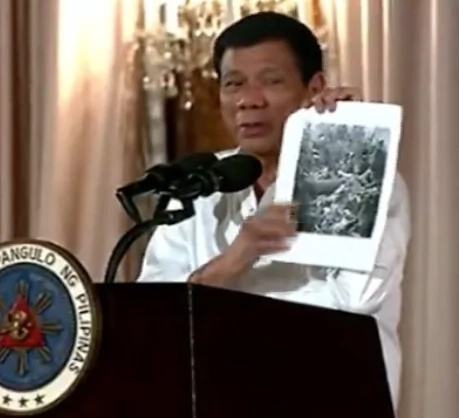 (photo credit: pinoytrending.altervista.org)
Duterte addressed the photo to US President Barack Obama, who has remained silent instead of responding to his subtle attack.
Even if the group's older leaders have moved on from their past, the younger leaders cannot forget their heritage.
READ ALSO: Kalokohan! Malacañang says no way Duterte ordered brutal mosque bombing
"Hindi ito kahapon, hanggang ngayon. To illustrate to you, mayor," which Duterte is still called despite having the highest title in the land, "nagigiyera kami noon sa Espanyol, Amerikano, at pati ngayon kayo," they said.
(It [the rebellion] did not start yesterday, it even exists until now. To illustrate to you, mayor, we raged war against the Spanish, the Americans, and now against you.)
To top off their argument, they stated that unless that he drives American troops out of Mindanao, they will continue to bomb various areas in the country.
READ ALSO: More powers? Duterte says NO to additional powers for the executive
Until now, American special forces continue to roam the areas of the Moro which has led Duterte to evict them so that the peace talks between the government and the rebel groups will proceed.
To which the president warned the audience that there will be another possible bombing due to their demands that have not been met yet.
"There will be another explosion, believe me. If not in Davao then somewhere in Mindanao or maybe in the other parts of the country. Because kung ikaw ang rebelde, gusto mo gumawa ng paalaala sa mundo na nandito kami, inaapi-api kami. Hanggang ngayon wala kaming nakitang solusyon. Kita mo 'yung mga magulang namin (referring to the Moros killed by Americans in 1900s) . Kita mo kung ano ginawa."
READ ALSO: Daring Maguindanao mayor and vice mayor, alleged masterminds of Davao blast
(There will be another explosion, believe me. If not in Davao then somewhere in Mindanao or maybe in the other parts of the country. Because if you are a rebel, you want the world to know that we are here and we are being persecuted. Until now we still have not seen any solution. Look what has been done to our ancestors. Look what had been done to them.)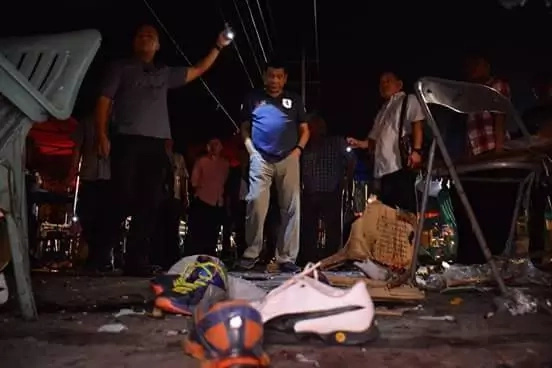 (Photo credit: facebook.com)
The Davao City bombing on September 2 has triggered other more bombings in the area and in Visayas and there have been threats that the country's capital might be the next location of a major bombing soon.
The president acknowledged their problem but responded that he has not been given a chance to expound the issue to his people.
READ ALSO: Distressed woman regrets bomb joke after being arrested in Cebu
"How can I communicate properly when ambush ang interview ninyo? You don't give me time to explain," he retorted.
(How can I communicate properly if you pull me aside for an ambush interview? You don't give me time to explain.)
Despite his thoughts on the media or 'people based in Manila', he will remain steadfast on his agenda.
READ ALSO: 3 suspected Abu Sayyaf members allegedly tasked to bomb Zamboanga City arrested
"My agenda was to you, I promise to you, the Mindanaoans, we will talk and we will find the peace that we want," he said.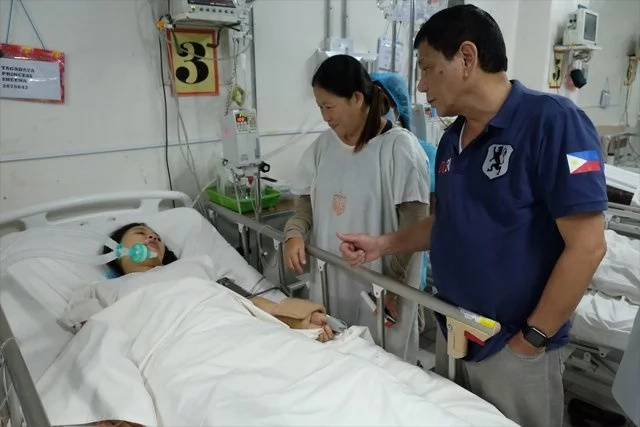 (photo credit: philstar.com)
It has been known that Duterte has been known to focus on the problems in Mindanao aside from his ongoing war against drugs. Aside from its problems, the president has also supported and promoted the talents that come from any of its islands.
READ ALSO: Furious netizens slam woman after joking about Davao blast
Source: Kami.com.ph