Former fan brands Duterte a 'wimp'
- A netizen has taken to Facebook to express his thoughts regarding the leadership capabilities of President Rodrigo Roa Duterte
- In his post, Genesis Raña had tagged the president as a bully, a pretender, and a petty tyrant, among others
- The post has been made to clarify why Raña had chosen his president in the recent election but has resurfaced following the increased spate in interest on Duterte's affairs due to the appearance of the alleged member of the Davao Death Squad (DDS) 
From his campaign up until today, 80 days after Rodrigo Roa Duterte officially took oath as the 16th President of the Republic of the Philippines, Duterte has had loyal followers who, time and again, has proved that they believe in his capabilities. These believers - both online and in person - have staunchly defended everything that the President did or said, sometimes to the point that he can be classed as a folk-hero for the kind of reverence that he has been receiving.
It may be because of such staunch bunch of online followers that the President has been accused of actually having a social media war room, complete with modern amenities and a headquarters, where his media presence is allegedly monitored.
One netizen mentioned in Annelle Gumihid-Sabanal's Facebook post on April 27, 2016 was quoted as saying that, "Mag post ka ng status na may hashtag and against duterte. Pag gising mo punung puno ka ng messages sa inbox mo na ipapapatay ka etc."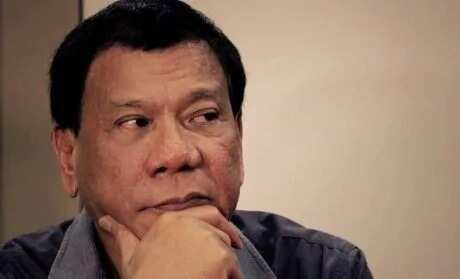 (Try posting a status with a hashtag and against Duterte. You'll wake up to an inbox with a chock full of messages and threats that you will be killed, etc.)
READ ALSO: Repentant DDS member reveals Duterte's secret atrocities
The President had also been accused of allegedly having ties with vigilante groups and hired assassins, which made the threat all too real. Just last Thursday, September 15, a self-proclaimed member of the Davao Death Squad (DDS) had admitted during the hearing of the Senate committee on justice and human rights that the DDS is real and mainly consists of police officers who never get arrested.
"Walang nahuhuling DDS kasi mga pulis yan, walang civilian na DDS," claimed Edgar Matobato.
It is with great surprise to find a very public declaration made by a netizen named Genesis Raña on Facebook about why he withdrew his support to the now-President Rodrigo Duterte just a couple of weeks before the national election.
READ ALSO: 4 mortifying Sandro Marcos tweets that prove he should quit Twitter
In his post, Raña had said that Duterte is "a pretender and a petty tyrant. He is not a leader, he is a bully. He is not dignified. He has no integrity." Raña also claimed that Duterte is a wimp, cowardly choosing opponents that are way below his level so that he will emerge victorious when he bullies them.
Raña had also explained Duterte's appeal saying that just like the instant noodle, Duterte offers instant gratification, earning him the adjective 'shallow' in Raña's eyes.
The post was concluded with the actual presidential candidate that Raña had decided to vote for after discovering a pattern on Duterte's strategy and eventually turning his back on Duterte.
READ ALSO: Netizen on voting for Duterte: 'I am embarrassed'
"Daang matuwid has potholes and not entirely matuwid. But I believe that it is still the best path for our nation," he concluded.
Here is the full and unedited post of Genesis Raña on Facebook: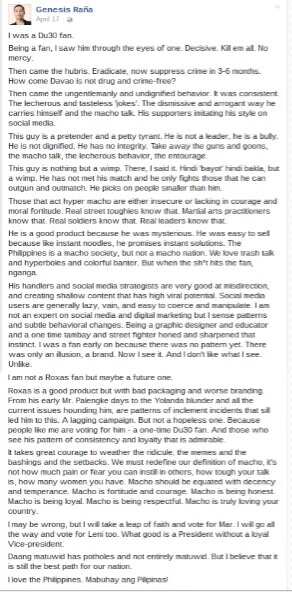 RELATED: 6 of the most WTF accusations Duterte has ever faced
Disclaimer: The views and opinions expressed here are those of the author and do not necessarily reflect the official policy or position of Kami.com.ph.
Source: KAMI.com.gh