Sekkingstad recalls ordeals under ASG
- Norwegian national Kjartan Sekkingstad recalled some of his ordeals while in the hands of extremist group Abu Sayyaf
- Sekkingstad even showed his backpack with a bullet hole and other items he kept as souvenirs
- Sekkingstad and three other individuals were kidnapped September 2015 at Samal Island
Norwegian national Kjartan Sekkingstad claimed that extremist group Abu Sayyaf repeatedly threatened to kill him during the entirety of his one-year captivity.
Sekkingstad is the last Samal Island kidnapping survivor who was released by the group on September 17, Saturday. His co-hostages Robert Hall and John Ridsdel, both Canadian, were beheaded while Marites Flor, a Filipino, was also released.
He claimed that his entire stay with the ASG was "devastating". However, he is now grateful for his freedom.
"I am very happy to be alive and free," he said. "It's a beautiful feeling."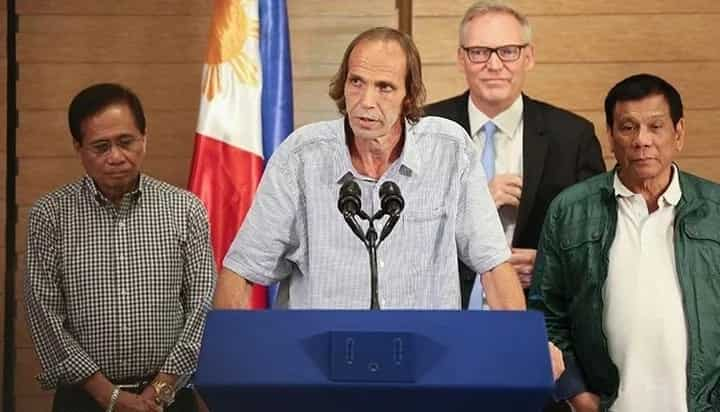 READ ALSO: Sa wakas! Duterte finally meets grateful Norwegian freed from deadly Abu Sayyaf
Sekkingstad recalled that the group made them slaves and ordered them to bring all the things every time they transfer from one place to another to avoid being detected. He also revealed his life has been put into danger every time there was a fight between the extremist group and military forces. He said that at one time, it was his backpack that saved his life.
He narrated how he felt a bullet hitting his back. He thought that a bullet has hit him. Fortunately, it did not harm him, thanks to his bag that caught the bullet instead. He even showed the particular backpack containing a pair of slippers, water bottle, and other things he kept while in captivity.
Sekkingstad said that he would keep those things as "souvenirs".
READ ALSO: Muling malaya! Norwegian hostage of notorious group Abu Sayyaf gets released
The newly released hostage also personally thanked President Rodrigo Duterte for helping secure his release.
The ASG captors released Sekkingstad to members of the Moro National Liberation Front, who helped negotiate his release. He stayed in Jolo overnight and has turned over to Philippine authorities, together with three Indonesian fishermen who were also freed in a separate event, on Sunday.
Sekkingstad and the three other individuals were kidnapped in a luxurious resort in Samal Island September of last year. -Kami Media
READ ALSO: Duterte to send 9,000 soldiers to DESTROY the Abu Sayyaf once and for all
Source: KAMI.com.gh