Filipino wife stands by husband in coma. A tearful story! Read it now
- Despite Francis being in a coma for 9 months now, his wife Shieka is determined to hold on and continue the fight until he comes back
- Francis suffered from Hypoxic and Ischemic Encephalopathy (HIE) because of the cardiac arrest and cardiac arrhythmia he had
- The couple is blessed with three children – their two-year-old Irdy and their twin babies 
READ ALSO: Vince & Grace were set to marry each other; the reason why his bride left him is heartbreaking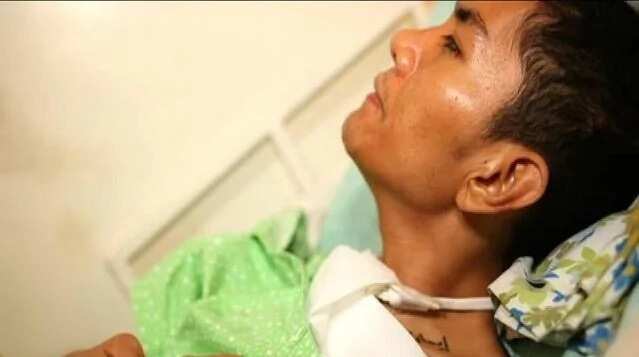 Irdy would try everything to awaken his father Francis. The two-year-old would sing to him, dedicate a presentation to him, and attempt to get his attention for no reason at all. These – Irdy is willing to do every day for his father. His mother Shieka, on the other hand, is still looking for the right words to explain what the situation is.
Francis, who is comatose for nine months now, lost his sight as well. In order to ease his breathing, the doctors also had to create a hole in his heart.
Before the serious illness changed Francis' life, he was a cheerful and loving husband and father to his family. As a police, he would spend his off watching over his son Irdy.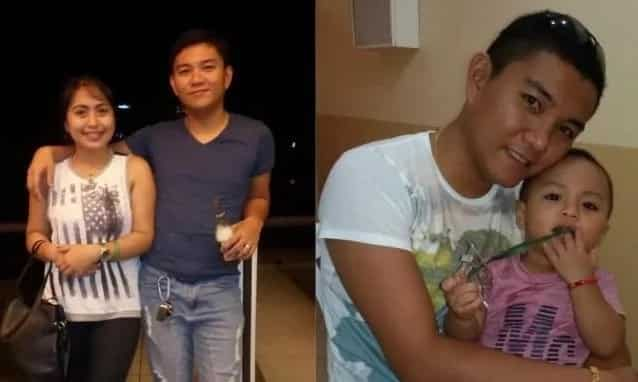 READ ALSO: It was a beautiful wedding until the groom died hours after; still a dream come true
On January 2, Francis and wife Shieka received a good news. Shieka was expecting their next angel and not just one, the couple was blessed with a twin.
Shieka recollected how glad her husband was.
"As in happy talaga siya, kahit sino 'yung makita niya, 'yung mga kakilala niya, sinasabi niya na twins daw ang anak namin (He was very happy, whoever he meets, his acquaintances, he would tell them that we'll have twin babies), " she recalled.
READ ALSO: Challenge Unaccepted: How a cancer patient looks like contrary to your black and white photo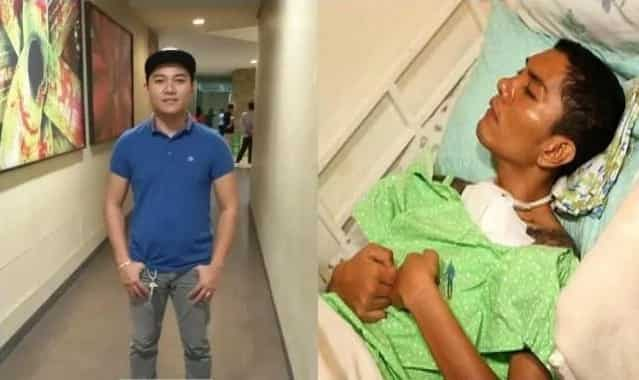 In the same month, the couple was faced with a test and they didn't see it coming. Francis complained that his chest was painful after an overnight duty for the Sinulog Festival in Cebu. When his wife looked at him, he was somewhat choking.
Francis was considered dead on arrival upon reaching the hospital but, fortunately, the doctors were able to revive him. He suffered Hypoxic and Ischemic Encephalopathy (HIE) because of the cardiac arrest and cardiac arrhythmia. His brain is also affected leaving him comatose. He stayed in the intensive care unit (ICU) for 3 months before he was taken home.
READ ALSO: Mother seeks justice for the death of her 7-month-old baby
Despite the struggle that they are facing, Shieka remains strong especially that she just gave birth to their twins last August.
As Shieka continues to take care of her husband and their three children, she is also praying that one day Francis would come back to them and live as one family.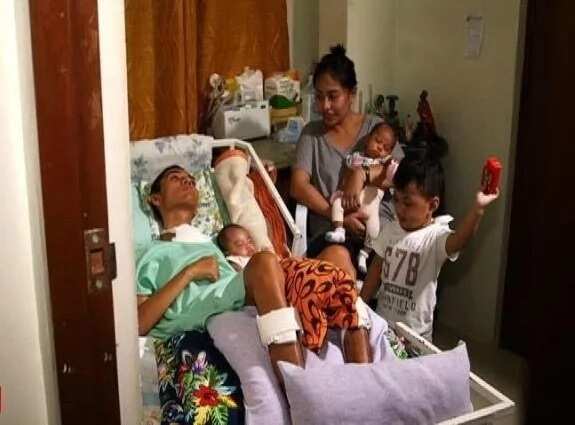 Hopeful and optimistic, Shieka said she will never get tired.
"Mahal na mahal ko po siya, at gagawin ko po ang lahat para lang sa kanya (I love him very much, and I will do everything for him)," she remarked.
For those who wishes to help the family of Francis, you may send a donation to Francis Michael L. David, Landbank Account number: 2497116387.
RELATED: Their love story is #RelationshipGoals; but what happened on their 10th anniversary is unexpected
Source: KAMI.com.gh