- Senator Antonio Trillanes issued a letter of apology for his behavior during last week's EJK meeting
- The senator argued that his unruly behavior towards Sen. Alan Cayetano was brought about by passion andthe  intense emotions of the moment
- Trillanes and Cayetano got into a heated word war last Thursday during the Committee on Justice and Human Right's hearing with witness Edgar Motabato
Senator Antonio Trillanes IV issued a letter of apology after his uncalled behavior towards his fellow Senator during last Thursday's Committee on Justice and Human Rights hearing.
Today, Monday, Trillanes formally apologized to Senator Alan Peter Cayetano for his unruly behavior during the Senate's probe last Thursday, September 15, about the controversial killings and the Davao Death Squad, in particular.
In his letter, Trillanes stated that his "uncalled for" demeanor was brought about by his "intense passion and emotion" on that particular moment.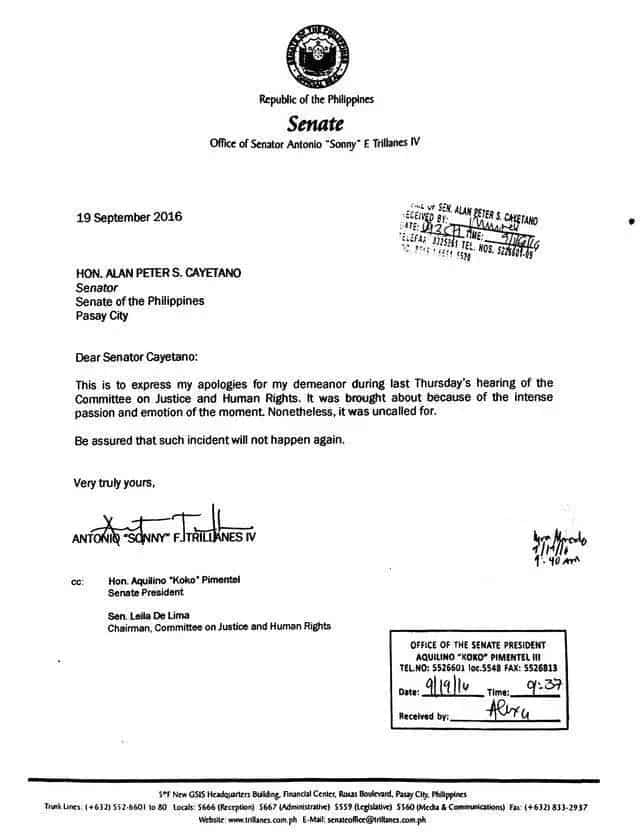 READ ALSO: Rambol sa Senado: Defiant Trillanes justifies controversial actions vs Cayetano
Although Trillanes did not specify what demeanor he was referring to in his letter, it can be recalled that the two senators got into a heated exchange during last week's hearing.
Senator Leila De Lima tried to get in-between the two senators as the argument went off-hand during the two-minute break. A video showing the two senators' argument went viral online.
It can also be recalled that Trillanes turned off Cayetano's microphone while the latter was still speaking. Trillanes lamented that Cayetano had already used up his allotted time with his "long and winding" statements.
Cayetano, on the other hand, accused Trillanes of "intimidation."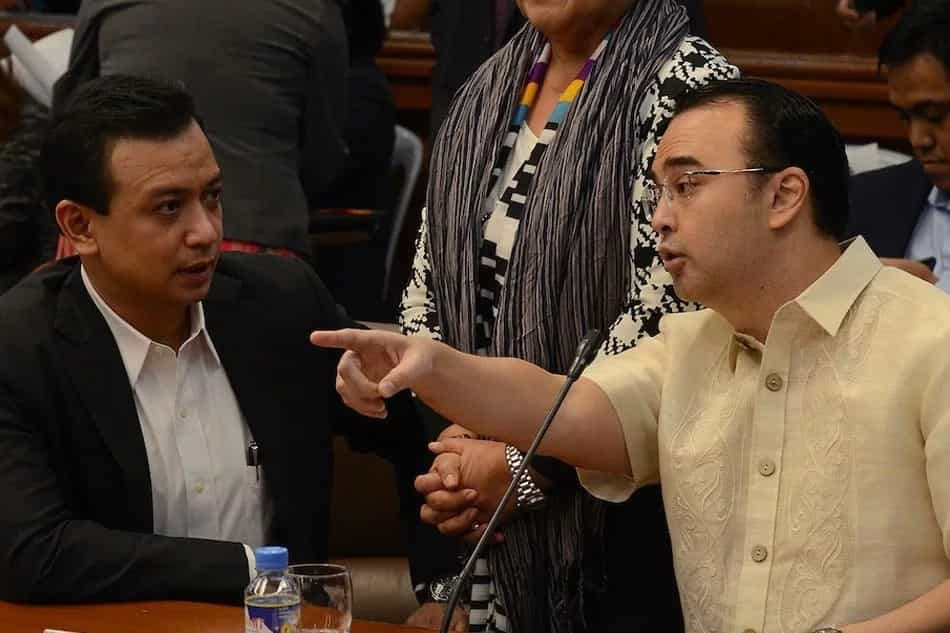 READ ALSO: Pimentel places Matobato's safety at risk after rejecting Senate custody
Meanwhile, Senate President Aquilino Pimentel III already called out Trillanes' attention due to his acts.
Pimentel reiterated that what occurred on that day was lamentable, especially because senators do not have the right to take the law into their own hands.
 "Do not take the law or the rules into your own hands na ikaw na mismo ang papatay nung mikropono ng kapwa mo senador. Magkapantay po kayo. Respeto lang po," Pimentel said.
(Do not take the law or the rules into your own hands  that you are the one turning off the microphone of your fellow senator. You are of equal levels. Just give respect.)
READ ALSO: Bakbakan sa Senado: Furious Trillanes gets into heated fight with angry Cayetano!
The incident happened during the committee's hearing with Edgar Matobato, a self-confessed Davao Death Squad member who claimed that President Rodrigo Duterte was behind the killings in Davao City.
Trillanes also promised that no such incident would occur in the future. -Kami Media
READ ALSO: Frustrated Trillanes accuses Duterte of bias against USA