- Drew Arellano and Iya Villania's bundle of joy stars in an adorable photo shoot with his parents
- Drew and Iya posted photos of baby Primo during his photo shoot courtesy of The Stork Studio
- Baby Antonio Primo was born on August 30, this year 
Celebrity couple Drew Arellano and Iya Villania started flooding their Instagram accounts of their newborn baby's photos since Iya gave birth to their baby boy.
The couple recently posted adorable photos of baby Primo in a photoshoot together with his proud parents.
Iya wrote in one of her posts: "Puyat, dirty nappies, random hours, feeding, burping, sore and hard boobies, sugat nippies all while still recovering from delivery but... Pure LOVE! I'm still so amazed with what my body just went through!" 
The Kapuso host and actress added: "And amazed at how this little lumpia can just have so much control over me. He's the boss!!! Got so much to be grateful for."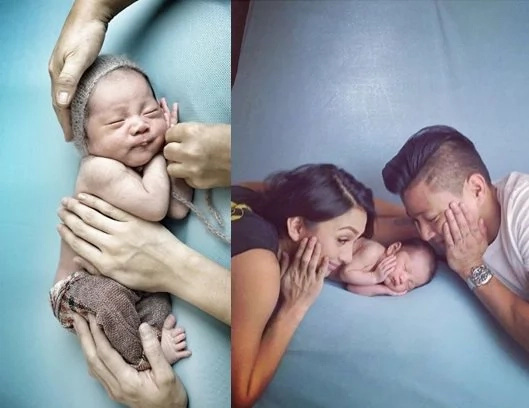 READ ALSO: Drew Arellano shows off son: The first glimpse of baby A
Drew also posted a sneak peek of Primo'sphotoshoot on his Instagram account. He wrote: "BTS: all hands on deck for proper styling of The Prime Minister."
Iya posted another cute photo of baby Primo courtesy of The Stork Studio where he was seen sleeping, wearing a cute patterned hat and knitted pants.
Iya gave birth to Antonio Primo on Agust 30, this year. During a TV interview right after her delivery, she shared how she felt when she  was giving birth to their bundle of joy.
READ ALSO: #CoupleGoals: Watch Drew and Iya's pre-baby shoot
Iya said: "Ang hirap, pero ang sobrang sarap paglabas ng baby." (It was hard, but it was all worth it when the baby came out.)
During Iya's pregnancy, she shared that her journey has been a breeze and that she was taking it easy, considering that it was her first pregnancy and said that she does not want to have a traumatic one.
Iya and Drew tied the knot in February 2014.
READ ALSO: CUTE! Drew Arellano shares video of pregnant Iya Villania dancing
Source: Kami.com.ph