- President Rodrigo Duterte swept the national elections on the platform to eradicate crime and drugs in 3-6 months in office
- Early Sunday, President Duterte admitted that the job was simply too big and asked that the public give him another 6 months to fulfil his promises
- Since taking office, more than 3,000 people have been killed in the blood war on drugs
During his speech to the media on the recently freed Norwegian Kjartan Sekkingstad, President Rodrigo Duterte admitted that he would be unable to eradicate drug related crime in his promised 3-6 months timeframe.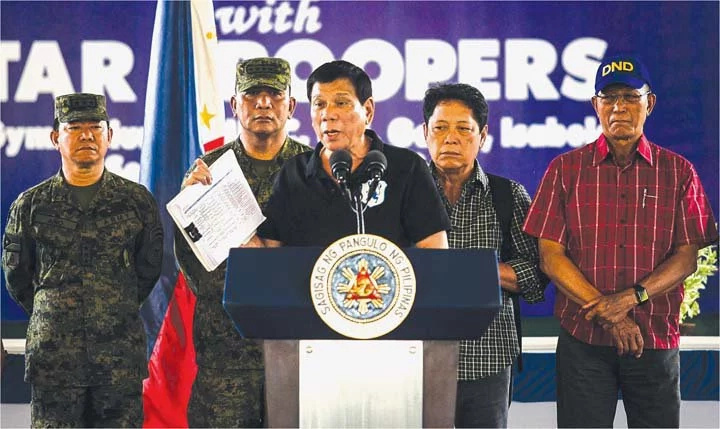 "That self-imposed time of three to six months, well, I did not realize how severe and how serious the problem of drug menace in this Republic until I became President," he said.
READ ALSO: #TruePinoy: This man's imaginary 'Tinikling' challenges modern-day dance craze
President Duterte swept the national elections on the platform to eradicate crime and the insidious drug trade from the country.
Since his inauguration, over 3,000 drug suspects were killed in bust operations and vigilante killings while more than 700,000 drug users have surrendered for rehabilitation.
The President admitted that even if he wanted to kill all the criminals in the Philippines, he did not have the capacity to do so.
"Even if I want it to, I cannot kill them all because the last report would be this thick," Duterte said, pointing to a thick list of public officials allegedly involved in the drug trade.
READ ALSO: Respect! Daring American bash Duterte haters, says Digong is real president we should be proud of
He then asked the Filipinos to grant him an extension in order to fulfill his promises.
"Just give me a little extension of maybe of another six months. Because I never have that idea of hundreds of thousands of people in the drug business. And what makes it worst is, they are now operated by people in government, especially those elected officials," the President said.
Duterte added that there are so many problems in the Philippines, plagued by terrorism and crime. He asks the public to grant him more time in order to organize and fight the systemic problems.
READ ALSO: Nakakakilabot: Horrified Pinoy commuter encounters ghosts in a UV Express
Source: Kami.com.ph