- CCTV footage of a Pinoy saving a baby from falling to the ground just in the nick of time has gone viral
- Netizens applauded the Pinoy's heroic efforts and cat-like reflexes
- Some online users also theorized that the infant fell because the baby carrier's safety strap was not properly attached
Superheroes do exist! CCTV footage of a Filipino receptionist catching a baby who fell from the counter had gone viral, with the online community amazed by the Pinoy's cat-like reflexes and his heroic effort.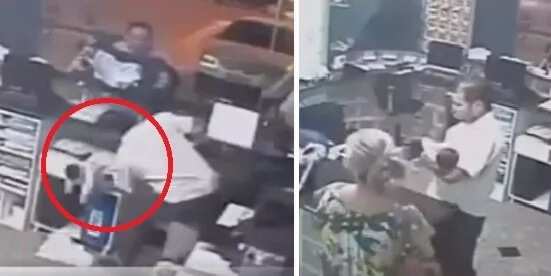 The video shows the receptionist sitting behind the counter as a man with his baby approaches him. A few moments later, the baby fell from the baby carrier attached to the father's upper body.
But before the baby hits the ground, the unassuming receptionist was able to catch him in the nick of time!
READ ALSO: Galit na galit! Violent security guards brutally beat up tricycle driver in Tarlac mall
The mother arrived at the scene and immediately checked on her baby who was in the arms of the real-life superhero. Thanks to the heroic efforts of the receptionist, the baby was safe and sound back into the arms of his mother.
Many netizens applauded the Pinoy for saving the baby.
"Buti nalang alerto ang receptonist at nailigtas ang nahulog na baby," a netizen posted.
(The receptionist's alertness save the falling baby.)
READ ALSO: Sweet Pinoy couple with down syndrome gives mall-goers the ultimate #kiligfeels
Other online users commented that the rescue was a miracle from Heaven.
"Ang Panginoon na ang naglagay ng kamay nya sa baby. Tingan niyo mabuti ang video nakaupo si kuya busy sya pero nasalo nya parin," an online user said.
(The Lord put the baby on his hands. Check the video carefully and notice how the man was sitting on his chair, busy with his work. But he was still able to catch the baby.)
Several netizens also warned parents about checking the straps of their baby carrier before placing their baby on it.
"Nakalimutan rin ikabit yung safety belt or safety strap ng baby carrier," a netizen explained.
(They must have forgotten to attach the safety belt or safety strap of the baby carrier.)
SHARE this miraculous video with your family and friends!
READ ALSO: Hard-working 10-yr-old Pinoy kid endures living home to sell kesong puti on the street
Source: Kami.com.ph