EDITOR'S NOTE: This column contains themes and images that are not be suitable for minors. Parental guidance is strongly advised.
A video of a shocking incident at the Magic Star Mall in Tarlac City showing a tricycle driver getting badly beaten up by a couple of security guards has gone viral, with the online community wondering about the cause of the commotion.
The beginning of the clip shows the helpless trike driver receiving several punches and kicks from three security guards near the lobby of the mall. Due to the brawl, a crowd can be seen gathering near the scene.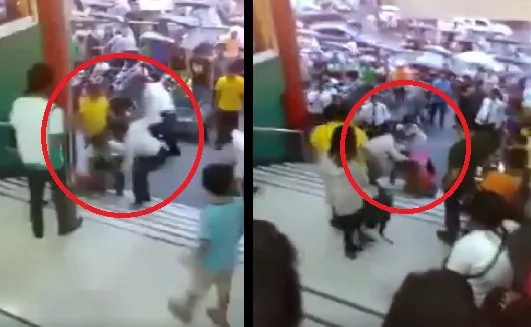 READ ALSO: Hard-working 10-yr-old Pinoy kid endures living home to sell kesong puti on the street
A few moments later, the eyewitnesses decided to calm down the security guards who did not seem to have any intention of stopping the attack on the trike driver.
As the security guards continued to attack the driver, another guard arrived to calm down the situation. Several citizens also tried to help by getting in between the violent guards and the badly beaten up trike driver.
According to the video uploader, the video was taken by a security guard of the mall named Arnold Alcantara. The uploader commented that the video might get deleted soon so he has decided to upload it on the internet.
READ ALSO: Sweet Pinoy couple with down syndrome gives mall-goers the ultimate #kiligfeels
"Baka kasi idelete na nila kaya dinownload ko na. Wag nalang po ilabas ang pagkakakilanlan ko," the concerned netizen posted.
(They might delete this video so I downloaded it. Just do not release my identity.)
Many netizens were shocked at the violent attack. Some online users commented that the trike driver must have deserved the attack while others say that the physical assault was excessive and uncalled for.
SHARE this brutal video with your family and friends!
READ ALSO: Heroic off-duty cops rescue helpless civilians by killing brutal hold-upper
Source: Kami.com.ph