- Marian Rivera shared her experience as a mother to 9-month-old Baby Zia
- At a young age, Baby Zia loves to dance to music and very friendly to other people
- Marian said that they are planning to have their second child two years from now
Despite her busy career in the showbiz industry, Kapuso actress Marian Rivera stills finds time to spend with her unica hija Zia after a long day of work.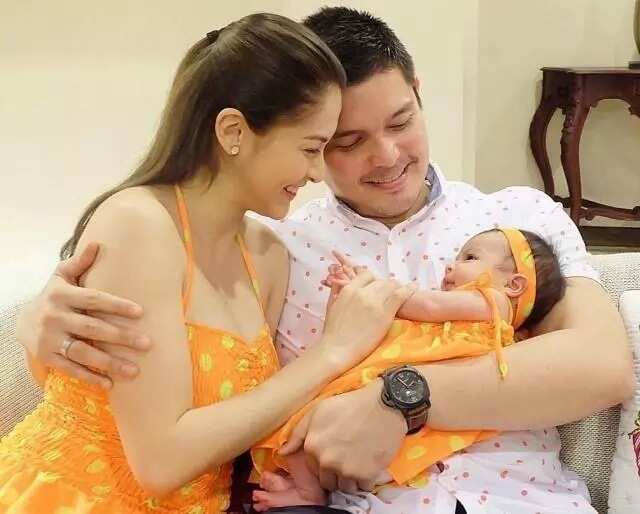 Marian said that she values spending time with her daughter and finds it essential that she builds a good relationship with Baby Zia now that she is starting to grow up.
Baby Zia is only 9-months old but Marian said she is already quite the little entertainer at home. Marian narrates that Baby Zia loves to dance to music and whenever she hears one her impulse would be to bounce, dance, and even do a head bang.
READ ALSO: Adorable couple DongYan star in latest McDo commercial
At a very young age, Baby Zia is not shy around people and there is a possibility that she would want to enter the same industry and follow the footsteps of her parents, Marian Rivera and Dingdong Dantes.
When asked if she's going to support Zia if she wants to be an artist, Marian said yes as long as her daughter is prioritizing her studies.
"If I could have it my way, I would love for her to get a college degree first. Education is important…a gift that should be treasured," Marian explained. 
READ ALSO: We dare you not to fall in love with these adorable celebrity babies
However, Marian still values Zia's decisions and said that at the end of the day Zia would be the one to decide for herself.
"It's hard to predict what she would end up becoming later on in life. She will develop her own interests as she grows up. My job as a parent is to support her," she added.
Marian said that she is also bringing Zia to a play school twice a week to develop her skills at an early age.
READ ALSO: Fans point out 'Alyas Robin Hood'-'Arrow' similarities
"She's very observant, sweet and makulit! And she's not afraid to mingle with other kids," Marian said.
Marian said that they are planning to give Zia a little brother or a sister two years from now.
Lastly, Marian described how happy she is to be a mother to Baby Zia and said that her journey to motherhood is a priceless one.