- Presidential Legal Adviser Salvador Panelo eyes constitutional dictatorship to expand the powers of the Chief Executive
- Under the dictatorship, Duterte will have powers over the executive and the legislative branches
- Panelo said that it is necessary to speed up the government reforms in the country
Presidential Legal Adviser Salvador Panelo is considering the idea of expanding the powers of the Chief Executive through a "constitutional dictatorship".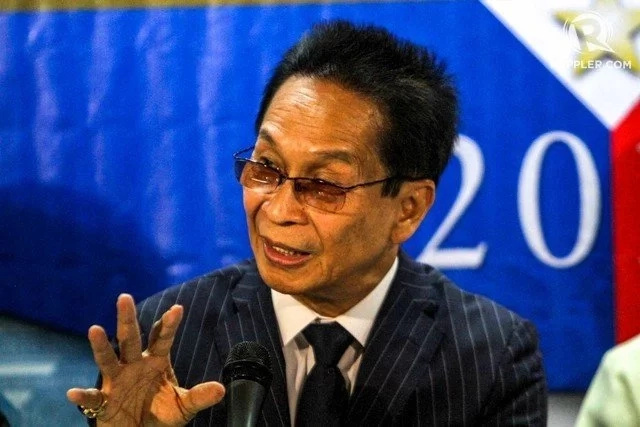 (Photo credit: rappler.com)
Aside from the powers of Duterte to call in the military to resolve lawlessness, Panelo explained that such dictatorship would give the President powers over the executive and the legislative branches.
"What I am saying is, it's constitutional. You revise the Constitution, give the powers to the President, (the) legislative and executive powers. So in a sense it's like dictatorship because he has two powers but all of them are constitutional," Panelo explained.
READ ALSO: Duterte considers hiring hatchet men, mercenaries to FIGHT Abu Sayyaf
As stipulated under Article 7, Section 18 of the 1987 Constitution, martial law may be declared by the President in case of an invasion or a rebellion, in which the President, in such a case, may suspend the privilege of the writ of habeas corpus for a period not exceeding 60 days.
The Congress, through voting jointly by a vote of at least a majority of all its members in regular of special session, may suspend or revoke the proclamation.
Panelo said that the expanding of the powers of the President is to enable reforms in the government to be given action immediately.
READ ALSO: Final narco-list threatens Duterte's presidential term survival
"We need this power, we need that. So more often than not, there is no more excuse not to fail," said the legal adviser of Duterte.
Panelo, who shared a good relationship with Duterte, is convinced that the President will not abuse the additional powers that will be vested into him.
"[Duterte is] a man of integrity beyond corruption, who has a political will and he walks his talk," he added.
READ ALSO: Siya na! Teddy Locsin accepts Duterte's offer to become Permanent Representative to the UN
Moreover, Panelo thinks that Duterte will not place the country under martial law since the threat groups remained under the control of the government. However, Panelo excluded the Abu Sayyaf Group to these threat groups.
Source: Kami.com.ph