- President Rodrigo Duterte spoke before the soldiers of the 5th Infantry Division in Gamu, Isabela
- The President announced that he received the amount of P1 billion from a donor who decided not to reveal his identity
- The money will be allotted for field hospitals for the Filipino soldiers
The deaths of many soldiers of the Philippine military after the armed conflict with the Abu Sayyaf Group last August at Patikul, Sulu is still fresh in the memories of other soldiers who are strongly urged by President Rodrigo Duterte to be ready for the war against terrorism.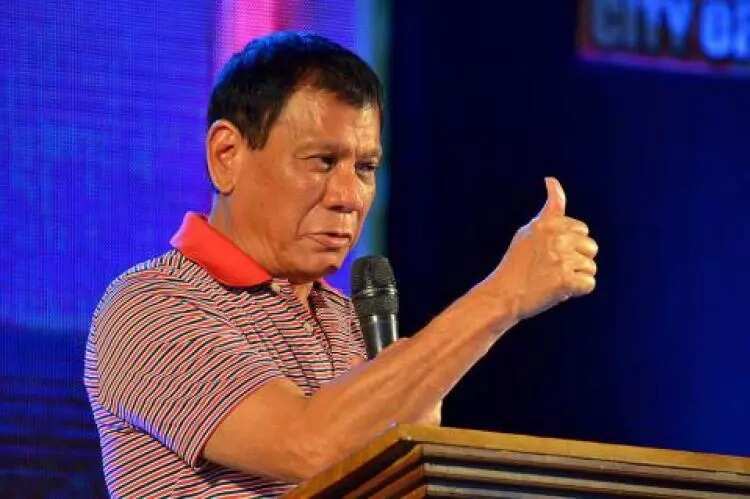 During the visit of the President in the 5 Infantry Division in Gamu, Isabela, the tough President reminded the military to be alert at all times due to the terrorism posed be the bandit group.
"Prepare for that eventuality because ang kalaban niyo dito sabog (because your enemy here is explosive). You have to learn from the police… Pag-aralan na ninyong mabuti (You have to carefully learn) the profiling of the bomber," the President said.
 READ ALSO: Final narco-list threatens Duterte's presidential term survival
The highlight of the speech of Duterte was when he announced that he received the amount of P1 billion from a donor who decided not to publicize his identity.
According to the President, the military should not worry because the money he received will be allotted for building field hospitals, while the Presidential plane will not be used as an ambulance.
On the other hand, Duterte pointed out on the role of MNLF Founding Chair Nur Misuari in the current situation of the Abu Sayyaf Group.
"He has lost control of the young men of the Moro generation. 'Iyang Abu Sayyaf na 'yan (The Abu Sayyaf Group), they are angry for a fight to establish a caliphate in Southeast Asia," he explained.
READ ALSO: Duterte backs down promise to eradicate drugs in six months
Moreover, the iron-fisted President urged the military to support the all-out war against the illegal drug trade in the country and corruption.
Duterte also showed another "Narco List" involving politicians which he gave to the commander of the 5 ID.  Aside from this, he continued by naming the previous people he linked to the said list.
At the end of his speech, the President expressed his worry that he will not be able to complete his six-year term as President.
READ ALSO: Duterte admin set to wipe out illegal gambling dens after bloody drug war
"I do not know if I will survive the six years or not. Sa karami, hindi ko kayang patayin lahat. Baka ako pa ang patayin nito (Due to their large number, I cannot kill them all. Maybe they will kill me, too.)," he added.
Laslty, tough Duterte reminded the military once again to not be affected by the criticisms agains the campaign against drugs.