- President Rodrigo Duterte revealed that the long list of names in his final narco-list might be the reason why he would not be able to survive the presidency
- There are at least 1000 names of politicians, government workers, and police officials are included in the list
- Duterte has ordered the military forces to bolster the war against illegal drug trade
President Rodrigo Duterte said he is unsure if he will survive his entire term as President of the country due to the number of narco-personalities present and running free in all parts of the country.
"I do not know if I will survive the six years [of my term] or not," Duterte stated during his speech last Saturday at Camp Dela Cruz, Isabela.
Thus, he is calling on all military forces to strengthen and level up the was on illegal drugs. He also acknowledged that he may not live until his last day as President.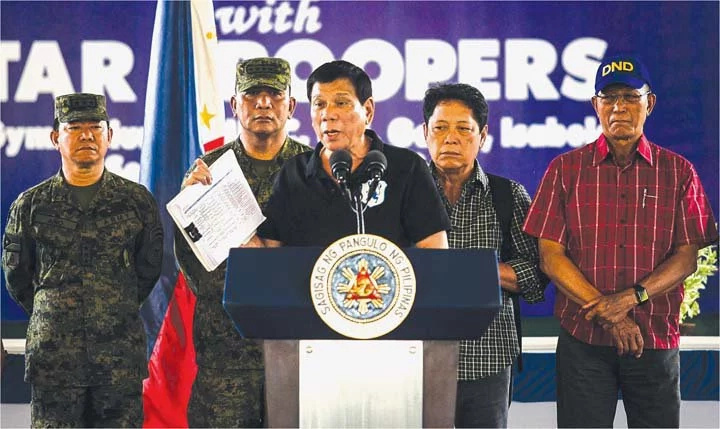 READ ALSO: Astig! Duterte stars in a breathtaking anime video
He disclosed that he is having a hard time getting rid of all the personalities involved in illegal drugs because of the number.
"Sa karami, hindi ko kayang patayin lahat. Baka ako pa ang patayin nito," he said.
(I am not sure if I can kill them all because of their number. They might even kill me first.)
Duterte said that he will be turning over his list of politicians and police officials that are involved in the illegal drug business.
Duterte believes that the country's military forces are ultimate warriors in the Constitution "to protect the people."  
READ ALSO: Duterte's right hand: Who is Ronald dela Rosa?
He also reiterated that he will protect these armed forces as long as they do their job.
"Just do what is the mandate of the Constitution. I will protect you. I will not allow one police or one military to go to jail for doing his duty," he added.
The final list is said to contain at least 1,000 names of government officials, including Reynaldo Flores, Naguilian, La Union Mayor, and Ronnie Sultan Maasim, Sarangani Barangay Chair. He added that Flores is a considered to be a "high-value target."
He added that the people in his final narco-list are seated in a wide range of positions in the government.
The President has emphasized that the existence of corruption in the government is one of the biggest challenges in his war on drugs. -Kami Media
READ ALSO: Outrageous! UN Rep says Duterte never ordered drug suspects slaughter
Source: Kami.com.ph