- A female barangay captain in Quezon City went viral for her eye-catching fashion style while directing traffic along Aurora Boulevard
- The brgy. Captain says that she immediately goes to the Brgy. Hall to do her duties after the morning rush hour
- The brgy. Official has received praises from motorists and the QC Department of Public Order
A female barangay captain in Quezon City has become a viral sensation due to her eccentric and eye-catching fashion style, especially when directing traffic along Aurora Boulevard.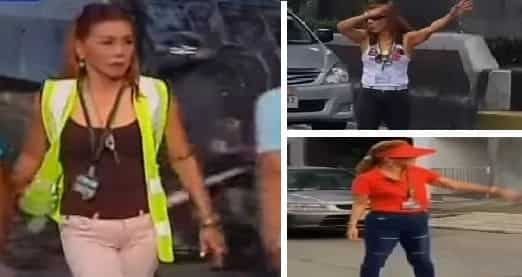 Due to the extremely heavy traffic in that area, Barangay Captain Bong Cosio San Miguel has decided to become a traffic enforcer during the morning rush hour.
"I talked to my whole council, the whole barangay, pati tanod, lupon, kagawad [including the watchmen, arbiters, council members], c'mon we have to help. We have to help so for a week, 5 o'clock we start waking up," they Brgy. Captain explained.
READ ALSO: Gatas o alak? Hilarious baby throws tantrum with milk but happy with beer
While enforcing traffic, San Miguel wears a safety vest and a whistle like other traffic enforcers. However, what makes her stand out is that she does her job without losing her fashion style.
San Miguel directs traffic while wearing heels and colorful outfits. After doing her work on the streets, she goes straight to the barangay hall to fulfill her other responsibilities.
"From here, I go straight to the office and I have to meet other people. Diretso na makeup ko, lipstick ko (With my makeup and lipstick on). And then I just, you know, do some cleaning up in the barangay and then start working again," she said.
READ ALSO: Dead baby miraculously comes back to life after Pinay doctor prayed to St. Teresa
Due to her extra effort in making her barangay more orderly, the Barangay Captain has earned the praises of both motorists and also the Department of Public Order and Safety in Quezon City.
The problem of heavy traffic in Metro Manila is one of the biggest issues that Filipinos would like the administration of President Rodrigo Duterte to solve as soon as possible. Plans to give the President emergency powers in solving the issue are already being discussed and studied.
READ ALSO: Magnanakaw! Sneaky thief uses slight of hand to rob cashier in Divisoria
Source: Kami.com.ph