- Senator Leila de Lima will be on hot seat on Tuesday's Senate probe as 14 witnesses will testify against her
- Justice Secretary Vitaliano Aguirre II made the announcement that 14 witnesses, including high-profile inmates, will testify against the Senator
- De Lima was not surprised by Aguirre's announcement and said that the witnesses are part of the administration's dirty works
After the explosive revelations of Edgar Matobato against President Rodrigo Duterte last Thursday during the Senate hearing of the committee on human rights and justice, there are more revelations that are yet to come but this time it is for Senator Leila De Lima.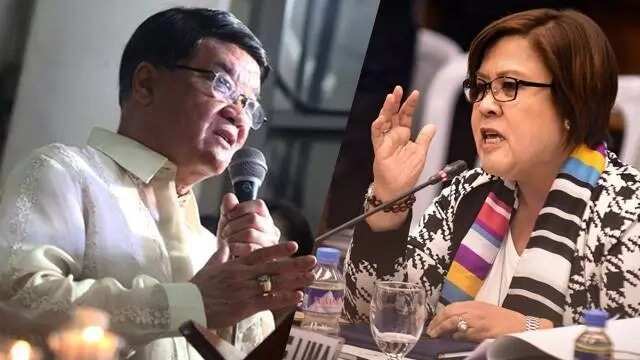 Justice Secretary Vitaliano Aguirre II said that 14 witnesses, including high-profile convicts, are going to testify against De Lima in connection with the drug trade at the state penitentiary during the Aquino administration.
READ ALSO: Topless woman attacks drone spying on her on the roof
Herbert Colangco, one of the witnesses who was imprisoned for kidnapping but still manages to run illegal drug operations inside the prison, is set to testify before the House committee on justice on Tuesday.
"Two will testify that they delivered drug money to Senator Leila De Lima at her house in Parañaque. Each delivery is worth P5 million," said Aguirre in Filipino.
Moreover, Aguirre said that the House probe on Tuesday would show why Edgar Matobato suddenly appeared at the Senate and claimed that the President ordered the bombing of a mosque and killing of Muslims in Davao City.
On the other hand, the brave senator was not afraid of the announcement of Aguirre.
"That simply means nakakuha na sila ng mga (they got some) false/perjured witnesses. I'm not surprised anymore since, as I said before, I was warned already about their evil design and insidious moves, such asfabrication of evidence," said De Lima.
READ ALSO: Kulang ang 2M! James Reid turned down 2M talent fee for unbelievable reasons
She added, "Pawang mga kasinungalingan yan! (Those are all lies!) That's how evil and desperate they are."
De Lima explained that when she was running for a position in the Senate, she heard stories that "there were people moving in Bilibid, looking for people who will testify against me."
The fearless Senator further said that the prisoners in Bilibid 19 will easily testify against her because they are against her.
Inmates in Bilibid 19 are high-profile and at the maximum state penitentiary. They were the subjects of surprise inspections led by Senator De Lima when she was still the head of the Department of Justice Secretary.
READ ALSO: #Beastmode: Disappointed Ai-Ai delas Alas expresses anger over Senate inquiry
Source: Kami.com.ph