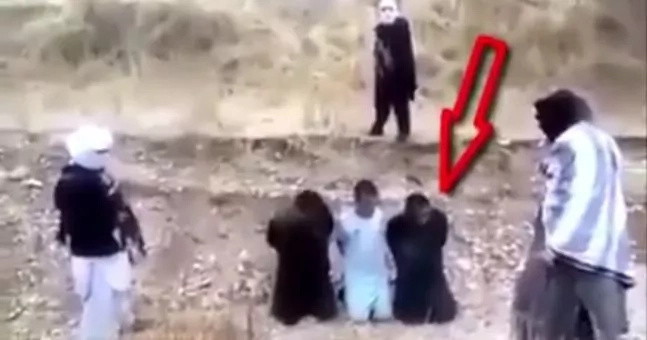 - This footage captures the moment a prisoner escapes his captors just seconds before execution
- In the video he headbutts his captor, grabs his rifle off the ground and begins shooting the enemies surrounding him
- Reports indicate that the man might have been a prisoner of ISIS
This weird footage captures the moment a brave prisoner awaiting execution turns on his captors.
In the grainy video we see three men are being led to their execution, with their hands tied behind their back.
The captors order them on their knees and just as his executioner approaches him to put a bullet in the back of his skull, the prisoner headbutts his captor with incredible speed, picks up his dropped rifle and begins firing upon his captors.
READ ALSO: Two giant pythons were fighting on the roof of this video
The cameraman ducks to avoid being shot and the video ends.
Some reports indicate that the brave warrior might have been a prisoner of ISIS.
However, there are many speculations online believing that the video is probably fake and Kurdish propaganda.
READ ALSO: Watch what his guy does when he catches his cheating wife
READ ALSO: A cat photo got this metal drummer elected for town council
Source: Kami.com.ph