Deaf-mute character in commercial gets praised online
- Lemon Square posted a video commercial on their Facebook page advertising their Cookie Says product
- It seemed like a normal young puppy love but in the end, they revealed that the lead protagonist is deaf-mute
- This video got many likes and shares because Lemon Square featured a deaf-and-mute character that is not regularly shown in other commercials
Recently, there have been a lot of commercials going viral riding on the hugot bandwagon. These commercials have all made us bitter, heartbroken, or sad because we can relate so much to the situations they've portrayed.
Now, a new commercial by a local product has surfaced online and has made waves on Facebook. The difference, this time, is that it's not a hugot commercial.
Lemon Square recently posted a video commercial that has proven that you don't need to have any hugot to be viral online.
READ ALSO: Adorable couple DongYan star in latest McDo commercial
The brand, who is known for their cupcakes, advertised their newest product Cookie Says. These cookies have messages written on them such as "Don't give up" and "For you" and other positive messages.
In the video commercial, it started out as a simple and cliché coming-of-age story of a boy giving gifts to the girl he likes as a secret admirer. It is expected that in the end, the girl would know who she is and they'd hit it off right away.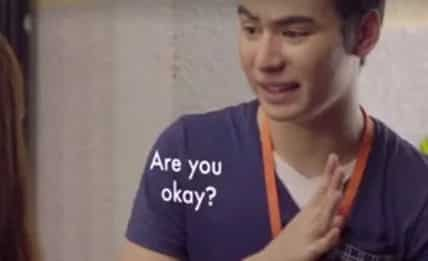 The end proved us all wrong when it suddenly turned a different direction.
READ ALSO: Pinoys' favorite fast food chain joins in the battle of #HugotCommercials
It turned out that the guy in the video was deaf-and-mute. He revealed this fact when the two characters bump into each other. The girl found out that this boy was her secret admirer because all the envelopes, messages, and cookies were scattered on the ground.
She was more dumbfounded, however, to find out that her secret admirer was deaf-mute. He introduced himself via sign language and it was still the same happy ending that we all crave and hope for.
The only difference now is the inclusion of a deaf-and-mute character, which isn't regularly seen or featured in other commercials.
READ ALSO: These "Nagmahal, Nasaktan" memes will make you say LOL!
Netizens seem to have liked the commercial as well. Many appreciated this new kind of commercial.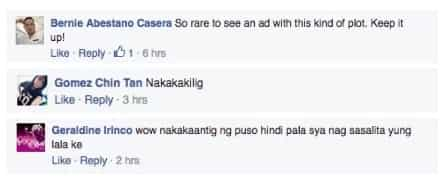 People also liked the inclusion of deaf-and-mute community.

Some have joked about taking food from strangers even if they're from secret admirers.

READ ALSO: 5 Hugot Commercials You'd Definitely Relate To
But overall, it was received by netizens well. Kudos to Lemon Square!
Don't miss out; watch what everyone's talking about here:
Source: KAMI.com.gh