It's a Blue and Green finals once more.
The De La Salle Lady Spikers  bounced back from a heartbreaker to defeat the Far Eastern University in three thrilling sets, 25-15, 27-25, 25-21, on Wednesday at the Mall of Asia Arena. With the win, the Lady Spikers will face Ateneo in the finals for the fifth straight time.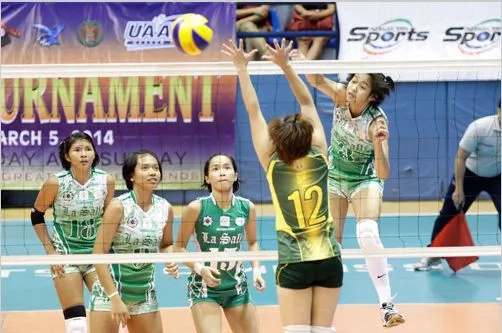 The excitement of the do-or-die match was palpable as fans of both teams made loud cheers and jeers on every point or extra action committed by players.  La Salle started the first set strong and capitalized on errors by FEU. The set was highlighted by long rallies, a testament to the unyielding floor and net defense by both squads. La Salle was able to create some separation and managed to take the first set, 25-15.
In the marathon second set, the Lady Tams led by as much as three points in the early parts. Midway, La Salle caught up with them at 15-all. After the second technical timeout, teams exchanged hits. FEU was able to pull away via three consecutive aces by Heather Guino-o, 22-18. Down 23-19, La Salle made an amazing comeback to steal the set and build a commanding 2-0 lead in the match.
The Lady Spikers raced to an 8-2 advantage in the early goings of the third set.  They led by as much as nine points in the set. FEU scored a string of points to close the gap. Down 22-16, FEU made a last-ditch effort to come within 2, 20-22. However, it was a little too late for the Morayta squad. La Salle brought out its veteran experience to seal the match and stave off a late rally by the Lady Tams.
Team captain Kim Fajardo powered the Lady Spikers with six points and 50 excellent sets. Mika Reyes and Galang also scored 10 points apiece for La Salle.
Bernadeth Pons and Toni Basas posted 10 markers each for the Lady Tams. No other Lady Tams scored in double figures. Skipper Remy Palma, who was instrumental in their victory against La Salle last time, only managed nine points.
Game 1 of the finals between Ateneo and La Salle will be on Saturday (April 23) at 4 p.m. at the SMART-Araneta Coliseum.
Source: Kami.com.ph