Following the Senate hearing on Thursday, September 15, where Edgar Matobato - a self-confessed Davao Death Squad (DDS) member - has enumerated what he claims to be atrocities committed by the President himself, President Rodrigo Roa Duterte has remained uncharacteristically silent.  
After living the ups and downs of being a maverick, the President has become well known for his forthright manner of speaking. His disregard for convention and direct-to-the-point, no-nonsense language has earned him folk-hero status. However, in this latest tirade which made Duterte be someone whose story would rival every larger-than-life mob boss film you've ever seen - it is but some wonder that he has not bothered challenging the witness at all.
Amidst the latest and most controversial accusations against the President, we have rounded up that most outrageous of them all - to tease them, the President,  and you out of extinction:
1. Duterte has ties to vigilante squads and rebel groups
If this personal conversation with the then-exiled Jose Ma. Sison is any proof, then President Rodrigo Duterte must have been quite close with the founder of the Communist Party of the Philippines. He probably is too, since Sison had taken some time to make threats in case Duterte gets 'cheated on' in the elections.
He restarted official peace talks with the Communist Party of the Philippines, National Democratic Party and the armed New People's Army and called on his "Muslim brothers" to end "centuries of mistrust and warfare".
READ ALSO: Abu Sayyaf decapitates another victim, this time a PREGNANT Tausug teen
Not only that, Duterte's ties with the Davao Death Squad (DDS), an alleged vigilante group responsible for summary executions of individuals suspected of petty crimes and drug dealings has repeatedly made it to the news, despite the president's denial of their existence.
Sounds fishy? Well...
2. Duterte owns accounts funded by shady groups and China
In a Facebook post by netizen Annelle Gumihid-Sabanal on April 27, 2016, she shared a conversation that she had with an unnamed friend, who was apparently a former worker in the Senate. Somewhere in the conversation, this 'former Senate worker' had claimed that Duterte's supporters range from a pastor to the big miners and even Asia's sleeping giant.
"Friend: Ate, I was recruited to be a part of Duterte's media team pero I refused. Sometime in 2013. Sabi ko private na ako. And the people behind him are GMA's ex-generals. Di ko kaya sikmurain. Duterte can't even mention the donors of his campaign di ba? Big time miners in mindanao are supporting him, China, and that Pastor Quiboloy." 
READ ALSO: Duterte reveals bank records
Even prior to the elections, Duterte has been accused of allegedly owning bank accounts with millions in funds.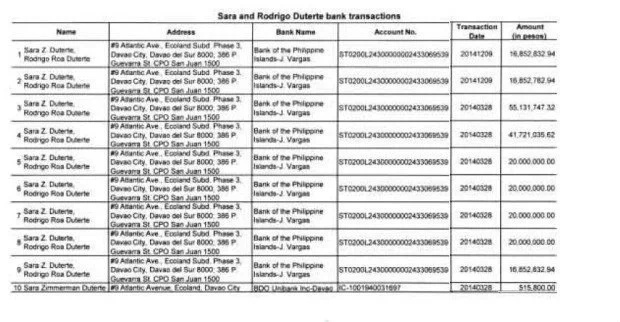 One of the most publicized has been that which was made by Senator Antonio Trillanes IV, who claimed that Duterte has P211 million in an account in Metro Manila in 2014, which he did not declare in his Statement of Assets, Liabilities, and Net worth (SALN).
3. Duterte has ties to a cult
Rodrigo Duterte is believed to be the first Philippine president to ever sport a tattoo. As it is, the tattoo that he has serves a higher purpose than just being the aesthetic expressionism that it is.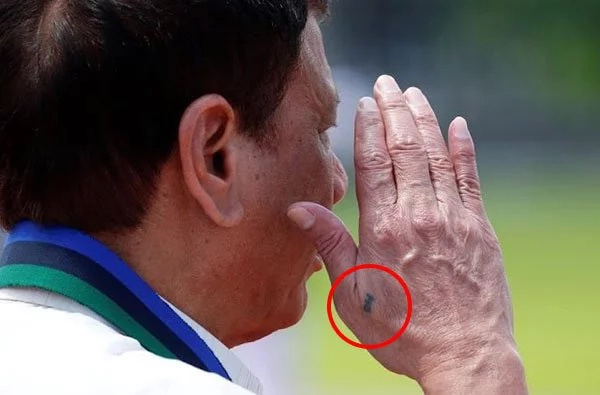 Presidential Adviser on Peace Process Jesus Dureza, said that in Duterte's case, the tattoo is a symbol for a secret cult - the 'Magic Group' of the Guardians Brotherhood - a military fraternal group of pro-Marcos which doubles as an informal army during the Martial Law.
READ ALSO: Duterte's tattoo could be the key in understanding his pro-Marcos stance
He does, after all, proclaim his awe and support to the Marcoses - dead or otherwise.
4. Duterte has a social media war room
In the same post made by Annelle Gumihid-Sabanal on April 27, 2016, her friend had claimed that Duterte and Cayetano's campaign team has a war room in the offices of Nickel Asia in Bonifacio Global City, Taguig, where their media presence is monitored.
"Friend: His war room office is in Nickel Asia building in BGC. Ang ganda ng set up! Parang pang Holywood haha. Owned by the Zamoras of course.
AGS: The 'war room' you were referring to, you mean, owned by Duterte?
Friend: War room. It's where they monitor everything. Multi media etc. High tech!
AGS: Monitor what?
Friend: Duterte and cayetano's media exposure. Twitter, Facebook, etc. Di pa nag start ang debate may votes na si Duterte na siya ang panalo sa debate. ???
AGS: So totoo yung chismis na may 'massive internet work' sila going on?
Friend: From China and Russia mga votes karamihan. Oo naman! Yung hashtag naka monitor. haha. May software lang yan na binili
AGS: Wow! I'm dumbfounded!
Friend: Those are the things na di pwede i public. Nakakatakot. Mag post ka ng status na may hashtag and against duterte. Pag gising mo punung puno ka ng messages sa inbox mo na ipapapatay ka etc."
READ ALSO: Netizen on voting for Duterte: 'I am embarrassed'
5.  Duterte is homosexual
In a Facebook post made by Jose Victor Nakpil Fuentes on June 6, he claimed that Duterte has been showing signs of being a closet homosexual. Among the reasons in Fuentes' list, we have selected the most outrageous ones for you:
"His obsession with Mar's phallus.
Throughout the campaign he has repeatedly remarked on the size of Mar's penis. Asking him to compare sizes. (Ano daw?) Not only that, he has remarked that Mar is not "rape-able", Whatever that means.
Mannerisms
Ever notice his weird mannerisms?
This I'll try to say through a photo comparing Dolphy in his "bakla pose" and Rodrigo Duterte in his iconic hand to cheek pose. If you don't get it, then your gaydar is totally down."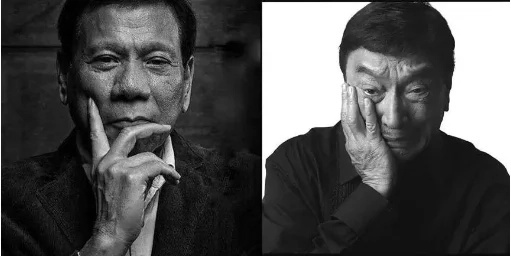 READ ALSO: Netizen: Why Duterte is a closet homosexual
In addition to this allegation, Duterte had once admitted to being gay.
"Bakla ako noon, na-reform lang. (I used to be gay but I was reformed)," says the tough-talking President during an interview with the flamboyantly gay TV personality and comedian Vice Ganda.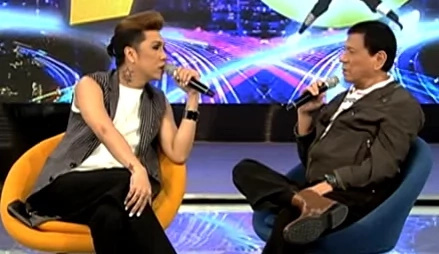 The video of the interview, should you decide that it's worth your time to watch Duterte admits to being gay is here:
Need we say more?
READ ALSO: LOOK: Vice Ganda for president?
6. Duterte is mentally-deranged
"Ako, palabas-masok ako sa bipolar. One moment seryoso ako, one moment tatapunan ko kayo ng biro." (I am bipolar. I am serious one moment, and the next moment I will joke with you.)
Sounds familiar? Indeed, it is from one of the claims that actually came from Duterte after the elections.
The President owned up to having bipolar disorder following the criticisms that he got when he corrected a report about the number of people he had killed and announced that his inaugural speech will only last for 5 minutes.
READ ALSO: 10 instances we want to question Duterte's mental health
If this doesn't convince you, let us take you back to the time when Duterte's psychology report was released:
RELATED: Repentant DDS member reveals Duterte's secret atrocities
Disclaimer: The views and opinions expressed here are those of the author and do not necessarily reflect the official policy or position of Kami.com.ph.
Source: Kami.com.ph