- A self-confessed member of Davao Death Squad has surfaced today and linked President Duterte to Davao Death Squad
- The witness also allegedly linked the President to Senator De Lima's ambush in 2009 and claimed that Davao City Vice Mayor Paolo Duterte is a drug addict
- Davao Death Squad is considered to be a vigilante group
On Thursday, a self-confessed Davao Death Squad (DDS) member allegedly linked President Rodrigo Duterte to the rising number of killings as well as to the ambush of Senator Leila De Lima n 2009.
Edgar Motabato testified in the Senate inquiry regarding the sequence of extrajudicial killings in the country. He said that then Davao City mayor and now Philippine President Rodrigo Duterte is the mastermind behind the ambush of Sen. De Lima last 2009.
On the other hand, he said that Duterte was involved in extrajudicial killings, drug connections, and even with the DDS. He even testified that Davao City Vice Mayor Paolo Duterte has ordered the killings of his enemies and is also a drug user.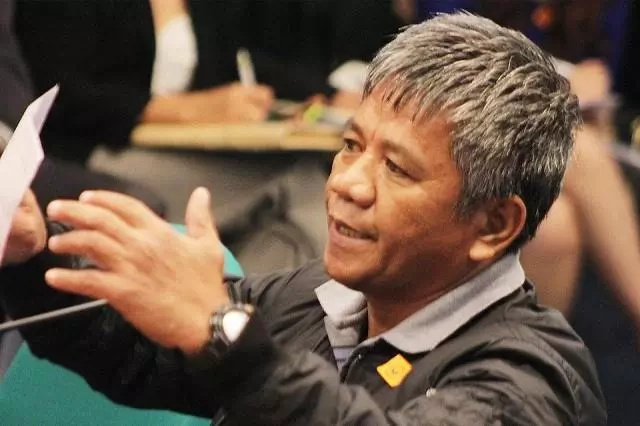 READ ALSO: 'Davao Death Squad member' links Paolo Duterte to violent murders, drug use
Motabato revealed that President Duterte himself recruited him to become a member of the death squad.
Meanwhile, today's proceedings have also garnered mixed reactions from the netizens, who blurted out their opinions on Facebook and Twitter.
Here are some of them:
With regard to Matobato's identity and the authenticity of his statements:


READ ALSO: Witness reveals ruthless Duterte masterminded De Lima ambush in 2009
A message to Senator Leila De Lima: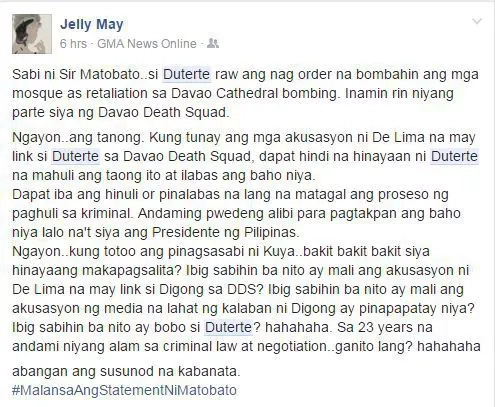 On Davao City Vice Mayor Paolo Duterte being involved in illegal drugs:

READ ALSO: Repentant DDS member reveals Duterte's secret atrocities
On the lighter side, there are those who also used the situation in a humorous manner:
DDS has been linked to a number of killings in Davao City. They are believed to be a vigilante group responsible for summary executions of criminals, such as rapists, drug addicts, snatchers, and so much more. According to estimations, the group is responsible for the killing or disappearance of around 1,040 people between the years 1998 and 2008. -Kami Media
READ ALSO: Human rights advocates receive criticisms on this viral meme
Source: Kami.com.ph