- Beautiful teen got a disfigured face after her gym teacher threw a mug at her
- Physical education teacher Paithoon Klaengkrathok threw a mug accidentally at Naruedee to stop the class from chatting noisily
- An investigation was launched after Paithoon and the school refused to cooperate with the family to assist them
A beautiful 17-year-old Thai student may forever live with her deformed face following a tragic incident in her school involving her gym teacher.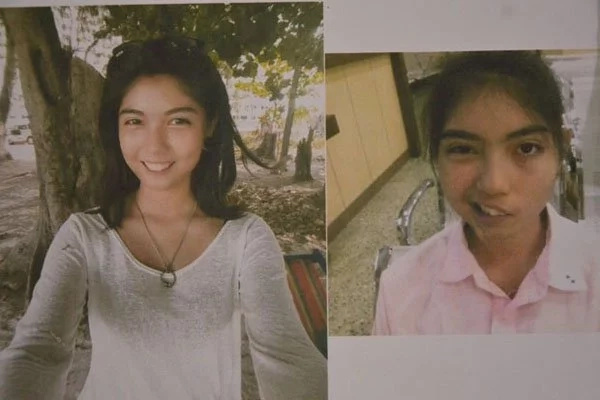 READ ALSO: Heart touching moment 400 kids sing a church gospel to their cancer-dying teacher
The teen claimed that her face got disfigured after her gym teacher threw a mug at her and hit a facial nerve tissue. Naruedee Jodsanthia sustained a nerve damage that made her unable to control certain parts of her face. She was unable to close her mouth resulting from the incident.
According to Naruedee's post in social media, the class was told by their physical education teacher, Paithoon Klaengkrathok, 58, to sit outside a classroom while he went away to make draw tickets to make takraw teams. Naruedee and seven other students stood up because the sunlight was strong on their spot.
Thinking that the students disobeyed his instructions, he threw the mug without aiming at anyone in particular and scolded them. The mug hit her left eyebrow inflicting a nerve injury. The local hospitals were unable to treat her, so the family sought treatment in the nation's capital in Bangkok.
READ ALSO: Teacher vs Student: Disgraceful fight in high school
Pavena Foundation for Children and Women took Miss Naruedee for treatment at a private hospital in Bangkok. Earlier, the family went to state-run Ramathibodi Hospital where the treatment cost was estimated at 300,000 baht.
The family reached out to the teacher Paithoon and to the school Chokchaisamakkee School to seek assistance for the medical treatment. However, the educational institution failed to assist the family. In response, education and justice officials launched an investigation.
Students said that Paithoon is friendly outside school, but is strict when in class. They said that Paithoon threw a mug to stop students from chatting noisily.
READ ALSO: This elementary teacher in La Union sells drugs for unbelievable reasons
Source: Kami.com.ph