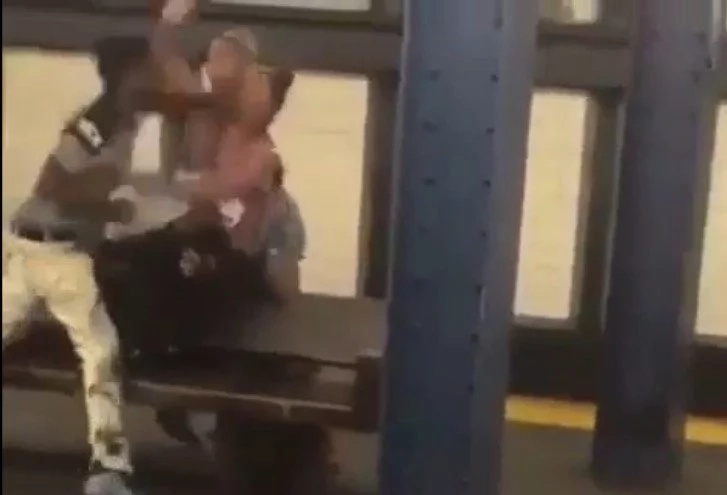 - The disgusting moment a woman was knocked out by a thug in New York subway was captured on camera 
- The girl was trying to defend her boyfriend from two gang bangers that were beating him up
- She escapes the clutches of a woman holding her back but just as she approaches one of the fiends shoots a left hook into the poor womans jaw sending her to the astral plane
This shocking footage of a fiend punching a woman was captured in a New York City subway.
The video depicts two men ganging up to beat another while his girlfriend watches. One man is holding down the boyfriend while the other delivers brutal punches and elbows to his head. It seems the poor woman can't bear it that her special other is getting beat up by two guys so she tries to stop the fight as best she can.
READ ALSO: A storm took the lives of 20 people, he takes piggyback ride
"That's it! That's it!" yells some other woman, holding back the girlfriend. The girlfriend escapes her clutches and runs to her boyfriend's aid.
Sadly one of the gangbangers punches her square in the jaw with a left hook. The woman is instantly knocked out from the man's punch. Onlookers are shocked by the man's actions but are on the other side of the rails and can't do anything to help.
READ ALSO: Russian cops message before being executed made him a hero
READ ALSO: Ailing Mystica implores netizens for financial help
Source: Kami.com.ph