-  The Philippines have remained socially divided on the issue regarding whether the late President Ferdinand Marcos Sr. should be given a hero's burial
- Amidst the debacle, an anti-Marcos advocate, and daughter of a loyal Marcos war veteran wrote to Governor Imee Marcos to share why she now thinks that Marcos was a hero
- After the letter was posted on social media, people from both sides once again fuel the debate on the matter
The Philippines is currently facing many contentious issues that have caused division among the people. One of which is the question about burying the late President Ferdinand Marcos - the longest ruling president of the Republic, in the
Many have expressed their opposition against awarding the late dictator with such honor due to the horrendous abuses brought about by his regime. They continue to fight for the lives lost due to Marcos' hunger for power and wealth, as well as the infringed rights of every single human being during his presidency.
According to the Marcos' apologists, despite the atrocities and alleged violations to human rights, the former president deserves a hero's burial because he had served as a president - who helped place the Philippines on the economic map - and as a soldier in the military during the world war.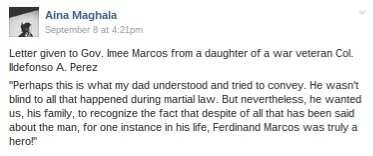 President Rodrigo Roa Duterte has expressed his support to allow Marcos to be put to rest in the LNMB, but with the petition of many, the Supreme Court of the Philippines has recently ruled to suspend the burial.
READ ALSO: Heartbroken Imee Marcos begs Filipinos to finally forgive her father
Amidst the on-going debacle, the daughter of a war veteran wrote to one of the late president Marcos' children, Gov. Imee Marcos.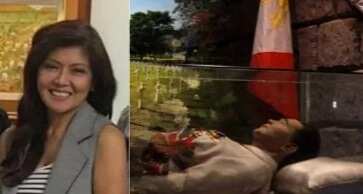 The letter, which was posted on a Facebook page called Freedom Society, was written by Suzette Perez-Pido, the daughter of the late Colonel Ildefonso Perez - who is a war veteran and a Marcos' loyalist.
Pido shared in her letter with Imee Marcos one of her father's dying wishes. She also mentioned her hesitation to write it since she was an anti-Marcos advocate and has joined many protests against them.
READ ALSO: CJ Sereno slams argument of SolGen Calida on Marcos' burial
The letter detailed the reason for her father's loyalty, which can be traced back to the time when the former president was still a lieutenant in the army. According to Pido, Marcos had helped save the life of Isidro Perez, her uncle.
Towards the end of the letter, Pido had written that despite her father's loyalty, he was not blind to the injustices brought about by the Martial law. She said that her father had wanted his family to recognize that for one moment, Ferdinand Marcos had been a true hero.
Following the Supreme Court's ruling to suspend the former president's burial, the tension started to ease, but with the circulation of this letter on social media, the Marcos debate had once again resurrected exchange among netizens.
READ ALSO: Marcos loyalists demand 1M signatures to bury him at the Libingan
If you haven't read the letter yet, you may do so below: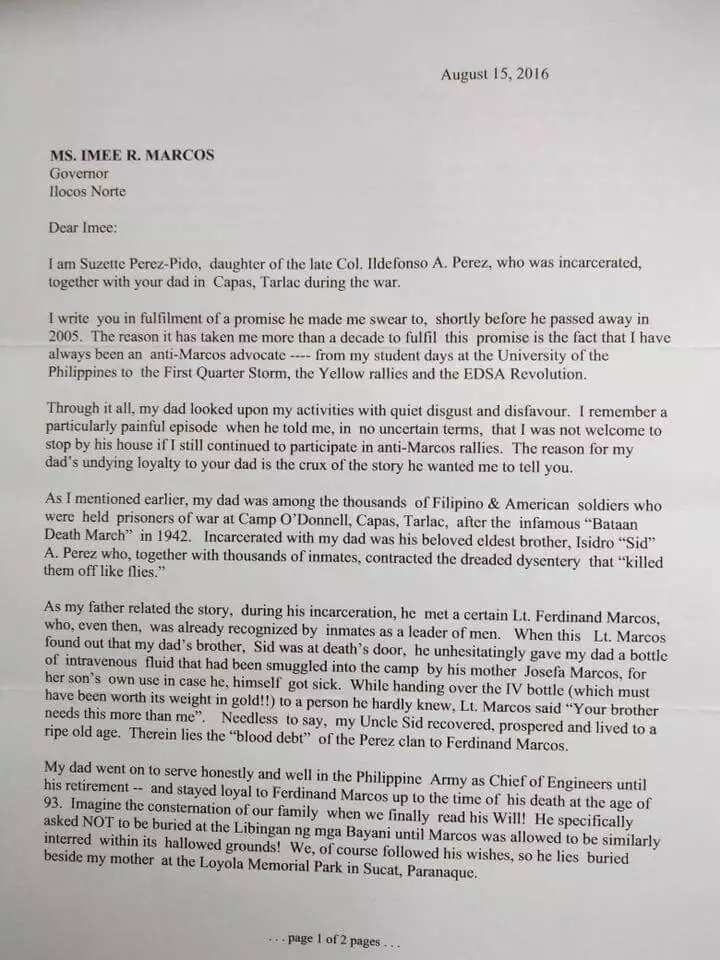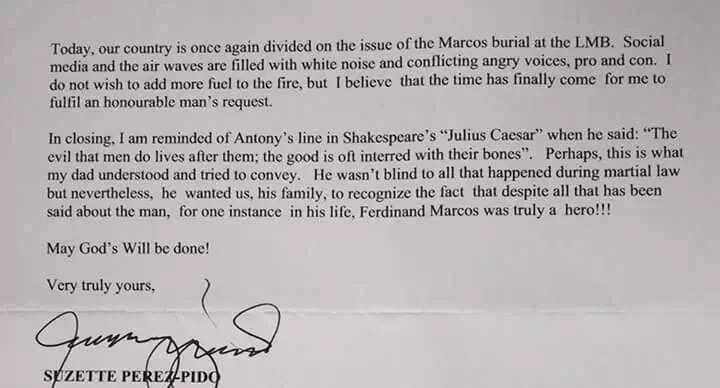 RELATED: 4 mortifying Sandro Marcos tweets that prove he should quit Twitter
Source: Kami.com.ph