- President Rodrigo Duterte has made international headlines once again by calling US President Barack Obama a 'son of a bitch'
- Despite maintaining a civil relationship throughout the ASEAN Summit, Duterte admitted he purportedly skipped the US-ASEAN bilateral talks
- Duterte has since apologized to Obama but proceeded to a show a historical picture that questioned having a talk regarding human rights
An eye for an eye, and a tooth for a tooth - such is President Rodrigo Duterte's response to his staunch critics.
"I purposely did not attend the bilateral talks between Asean countries and the president of the United States," he said to a crowd of distinguished military officers, police officials, and school teachers yesterday at Malacañang.
What the president referred to was one of the meetings he was supposed to attend last week at the ASEAN Summit at Laos.
READ ALSO: Unpredictable Duterte slams the US but praises China during speech
"I really skipped that one … . You just cannot (lecture) a president of a sovereign state. Even Obama. It would have been wrong for him to do that. That is why I disrespected them," he further stated.
It has been reported that the tough-talking president did not attend the meeting because he was nursing a migraine. Instead, he sent his Secretary of Foreign Affairs, Perfecto Yasay, to the said conference.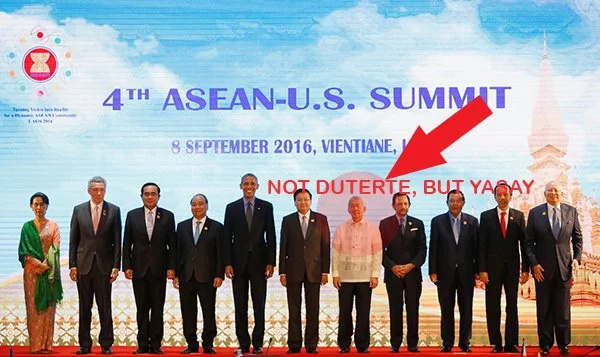 (Photo credit: abs-cbn)
Prior to the summit, Duterte has caused controversy once again with his words by calling his American counterpart a 'son of a bitch'. It was his response if ever President Barack Obama questioned him about his ongoing fight against drugs.
READ ALSO: Obama hailed for supporting PH on territorial dispute against China
Obama, on the other hand, has replied that the intensifying campaign against drugs should still follow international protocol and protect human rights.
However, Duterte retaliated in his usual manner - he warned those who questioned his ways that no one should mess with him. He also said that it was not Obama's business to meddle in the country's affairs.
This, in turn, has cost the Philippine president bilateral talks with the super country as the US president called off their supposed meeting.
READ ALSO: Humble Duterte surprises journalists by urging them to criticize him
Despite the media's misinterpretation of his statement, Duterte tried to make amends with Obama.
"President Obama, I'm President Duterte. I never made that statement, check it out," he said during the final day of the summit until he showed a photo of  200 killed Moros piled on top of one another. There was an American soldier stamping on a Moro woman's breast while he held a rifle.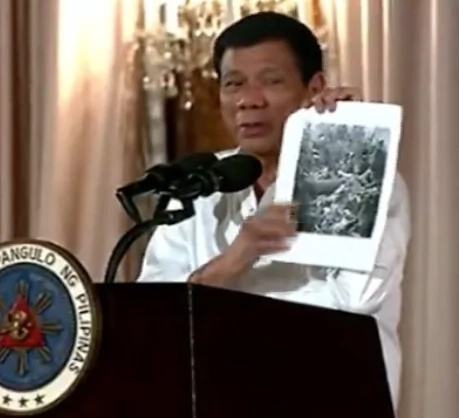 (photo credit: pinoytrending.altervista.org)
"This is human rights, what do you intend to do? … Human rights violations whether committed by Moses or Abraham, is still violation of human rights," he told an audience of ASEAN leaders and Obama.
Even if Duterte expected a response from the US president, he did not get any - Obama remained silent after his sudden outburst.
READ ALSO: Obama teaches Duterte how to effectively fight drugs in the Philippines
Source: Kami.com.ph