- Animal advocates are alarmed as the infamous annual dolphin hunt in Japan has started
- The controversial hunt has already slaughtered 20 dolphins
- Organizations are urging the Japanese government to halt the killings of dolphins
The infamous annual dolphin hunt in the Southwestern Japanese town of Taiji has already slaughtered twenty dolphins to mark the beginning of the event.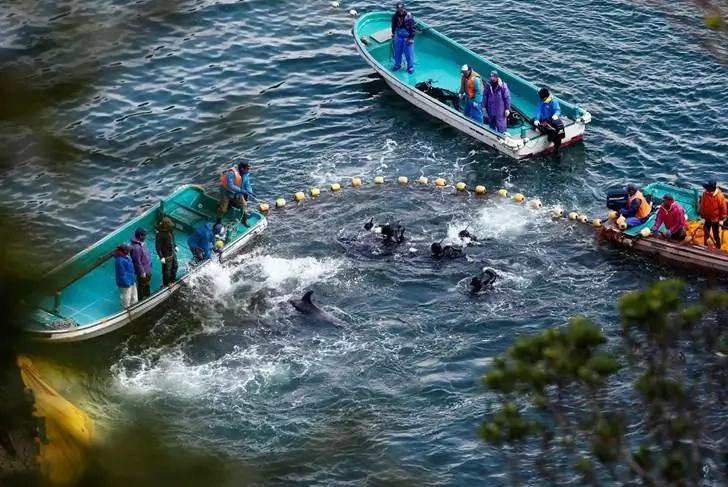 Since 2009, the notorious hunt that kills many dolphins has received global condemnation. It was featured in the Academy Award-winning film "The Cove" in which it was depicted how Japanese fishermen catch around 1,000 dolphins a year either to sell to marine parks or to kill for meat.
READ ALSO: This Japanese minister was taking piggyback rides on the site of a deadly storm
As dolphins are slaughtered, the cove turns red with blood.
The Japanese Association of Zoos and Aquariums, in 2015, banned the trade of dolphins from the notorious annual hunt after the World Association of Zoos and Aquariums, a global industry organization, protested and pressured the country to take action.
"For several days the hunters have been pursuing pods offshore, who were able to escape capture. This pod of Risso's dolphins was not so lucky. The senseless slaughter of the adult dolphins, while forcing the young to fend for themselves in the open sea, should serve as a call to action for everyone," said Ric O'Barry, the founder of the Dolphin project.
This year's hunt which will run from September until March is set to kill a quota of 1,820 dolphins of various species. This quota was set the Japanese government itself according to the Dolphin project.
READ ALSO: Toddler saying "Goodbye" to his dying twin will break your heart
The quota set this year is the same as the one set last year.
"The killing of dolphins is indefensible given our scientific knowledge of dolphins, which has demonstrated their sophisticated cognitive abilities including self and social awareness," stated Diana Reiss, a psychologist from Hunter College who specializes in dolphin behavior.
Many advocates around the world protested against the cruelty directed to animals.
Meanwhile, the 2020 Olympics is seen my conservationists as an opportunity to encourage the government to end the annual hunt.
"We are urging the Japanese government to consider the global spotlight on Japan for the 2020 Tokyo Olympics and end the dolphin hunts and their whaling activity," said Mark Palmer who acts as the associate director of the marine mammals project of the Earth Island Institute.
READ ALSO: 12 things you should never be ashamed of during making love
Source: Kami.com.ph