- Following the controversial announcement of Indonesian President Joko Widodo that President Rodrigo Duterte approved Veloso's execution, the Office of the Vice President has released Leni Robredo's official statement on Monday, September 12
- In her statement, Robredo urges the Duterte administration to clarify the issue and end the speculations
- She reminded everyone that the government protects and supports the OFWs, and brought up the country's collective efforts in praying and appealing for Mary Jane Veloso's life
Following the controversial statement of Indonesian President Joko Widodo on Monday, which claims that President Rodrigo Duterte has green-lighted the execution of inmate Mary Jane Veloso, Vice President Leni Robredo had issued her official stand on the issue.
In her statement, the Vice President had called on the Duterte administration to "shed light on this report to address the understandable concern of so many of us Filipinos."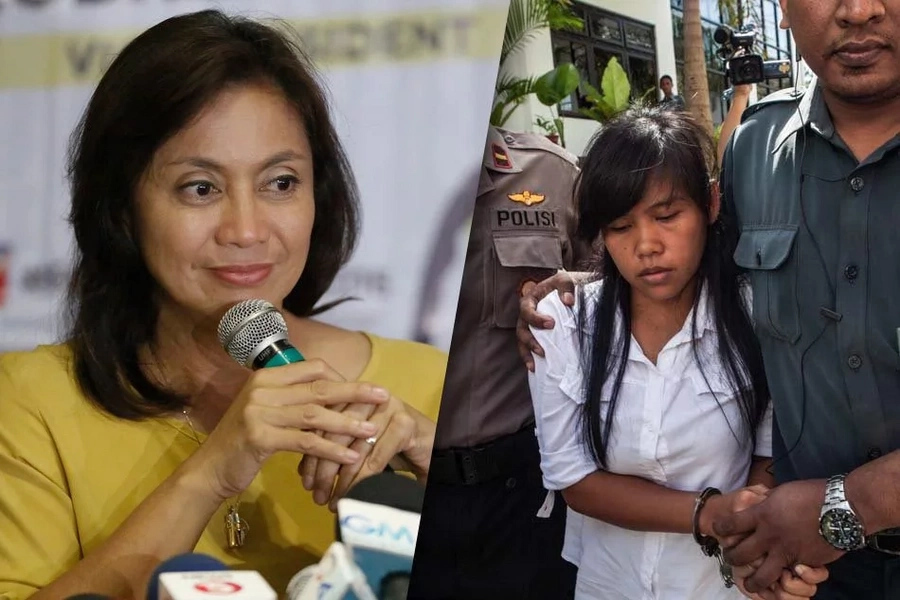 Robredo admitted that the report had come as a 'shock' as the government and the Filipino people had long exerted effort and united in praying for Mary Jane Veloso. She also reminded everyone how the nation had rejoiced when news of Mary Jane's reprieve from the execution row was announced even as she called for action from the government.
READ ALSO: Duterte approved Mary Jane Veloso's execution, says Indonesian President
"In this light, the report comes as a terrible shock, and we hope the government can issue the necessary clarification and take the appropriate action," Robredo had said.
Veloso was arrested at Adisucipto Airport in Yogyakarta in April 2010 after she was found to be carrying 2.6 kilograms of heroin.
Veloso has been granted a stay of execution last year due to her boss' arrest and was once again taken off the third round of execution row in April due to several legal procedures.
READ ALSO: PH Felt Relief After Indefinite Postponement of Veloso's Execution
"Mary Jane's case is emblematic of the hardships faced by millions of our OFWs," said the Vice President, and added that it is important for the government to establish its position on the issue.
"We must keep her welfare in mind, along with the welfare of all OFWs, as they remain under our government's protection and support despite working overseas," the Vice President concluded.
Here is the Vice President's full statement regarding the issue: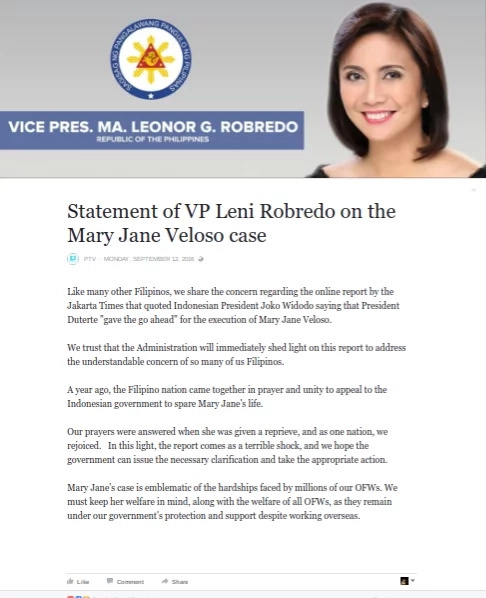 RELATED: Widodo audio proves Duterte condemned Veloso to die in Indonesia
Source: Kami.com.ph