Duterte set to be the chairman of ASEAN 2017
- The ASEAN Summit held in Laos formally announced that the Philippines will be the new chairman for ASEAN 2017
- President Rodrigo Duterte accepted the chairmanship during the ceremony
- In his speech, Duterte said that the Philippines is ready to guide the association
President Rodrigo Duterte formally accepted the chairmanship for the 2017 summits of the Association of Southeast Asian Nations (ASEAN) last Thursday, September 8.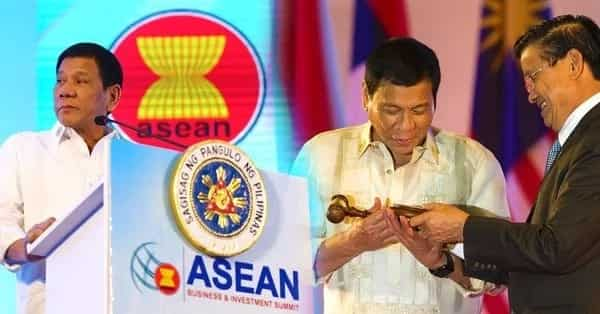 The ASEAN Summit held in Vientiane, Laos was President Duterte's first debut on the international stage as he met with the other world leaders in the meetings.
In his acceptance speech, Duterte emphasized that the Philippines would return the honor of having the chairmanship for the ASEAN 2017 through highlighting that while ASEAN is a perfect model of regionalism, it is also a global player that addressed the interests of its people based on its core values.
READ ALSO: Widodo audio proves Duterte condemned Veloso to die in Indonesia
"The Philippines is ready and willing to see and guide the association, but crucial to the realization of our goals are cooperation and support from all the ASEAN member states and our dialogue partners," said Duterte.
The chairmanship of Duterte happen at the same year ASEAN will celebrate its 50 anniversary as a regional organization.
Duterte's speech during the ceremony was one of the few instances when he read a prepared speech.
READ ALSO: Duterte accuses LP of devious plot to impeach him
Moreover, Duterte noted that he will give utmost importance to peace, stability, security, and growth for the ASEAN citizens.
"We will pursue initiative and enhance cooperation with global partners to ensure that the ASEAN citizens live in peace, stability, security, and growth all while remaining ASEAN's unity and solidarity we will maintain for all times," said the Philippine President.
Since ASEAN is all about cooperation and unity, Duterte invited ASEAN members and dialogue partners to act as one as ASEAN faces another year full of challenges.
READ ALSO: Duterte approved Mary Jane Veloso's execution, says Indonesian President
"I invite you to be our dynamic and vibrant partners as we guide ASEAN in 2017. Our theme partnering for change, engaging the world captures our resolve to consolidate our community for our people with a sense of togetherness and common identity," concluded Duterte.
Duterte is full of hope that the 50 anniversary of the organization would be a perfect 'occasion for them to set the tone for the next 50 years'.
Source: Kami.com.ph