- A video clip showing a Filipina attacking bystanders who accuse her of being a budol-budol thief went viral
- The alleged thief can be seen physically attacking a male witness and an elderly woman at the scene
- The video was taken at a market in Isabela
A video of a woman who tried to steal at a market in Isabela through a modus operandi called "Budol-budol" has gone viral.
Budol-budol is a modus operandi of criminals which involves conning victims into giving them what they want.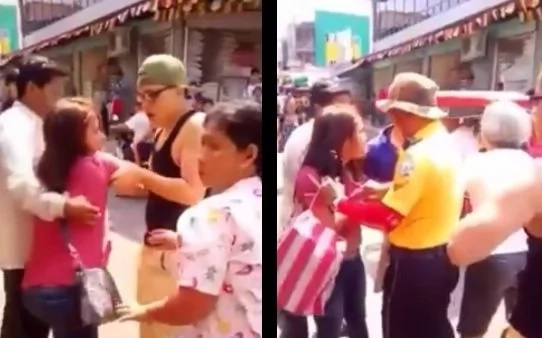 READ ALSO: You'll never guess why this octopus moves a coconut shell
The alleged Filipina thief can be seen in the video having a shouting match with the eyewitnesses to her supposed crime. She can also be seen punching and kicking one of the male eye witnesses.
A few moments later, a policeman arrives at the scene. But surprisingly, the alleged budol-budol woman continued to attack the male eyewitness and even kicked an elderly woman at the scene.
The other citizens in the area also helped out in restraining the violent woman. The video ends as the woman is taken away by the policeman.
READ ALSO: Lioness finds an injured fox and protects it
Netizens were outraged not only by the attempted theft in Isabela but also by her actions towards the eyewitnesses.
"Kung sino pa talaga ang manloloko sila pa galit at matatapang," a netizen wrote.
(The person who committed the crime was the one who had the guts to be angry and brave.)
Other netizens talked about their experiences of being victims of the budol-budol modus operandi.
"Kumukulo yung dugo ko sa babaeng yan dahil mama ko mismo biktima rin before ng budol budol," a netizen posted.
(That woman makes my blood boil because my mother was also a victim of budol budol.)
Other online users used the video as an opportunity to complain about the Commission on Human Rights (CHR) – which protects the rights of everyone including criminals.
"Malakas loob nila kasi bawal masaktan ang mga kriminal. Alam nila nasa likod lagi nila ang CHR," an online user said.
(They are brave because the law protects criminals from getting physically hurt. They know that the CHR has their back.)
SHARE this shocking video with your family and friends!
READ ALSO: This little baby sleeping on a big, gentle german shepherd will make your day
Source: Kami.com.ph