Air Asia prohibits use of Samsung Galaxy Note 7 on its flights
- The use of Samsung Galaxy Note 7 was banned from major airlines in the Philippines such as the Philippine Airlines and Cebu Pacific due to the recall made by the company of the product
- Air Asia has likewise issued an advisory against the use of the device on its flights
- If passengers would be bringing said device, it must be switched off until disembarkation, must not be used at any time during the flight, and it must not be checked in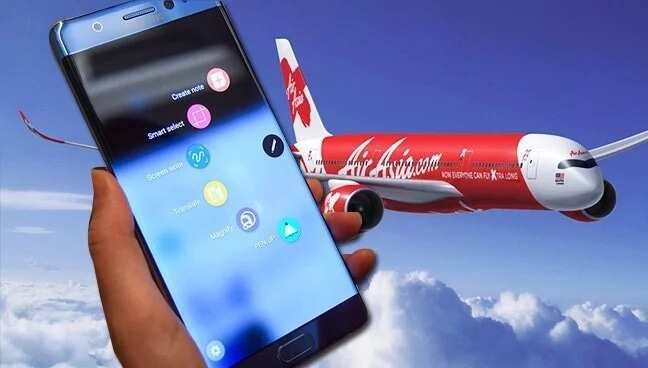 Samsung Galaxy Note 7 was banned by many airlines from their flights following the recall made by Samsung due to some safety concerns. Now, another airline banned the device from its flight.
Air Asia and Air Asia X released an advisory to all of their passengers that the use and charging of Samsung Galaxy Note 7are prohibited on any of their flights.  According to the advisory, said prohibition shall remain effective until further announcement is made.
READ ALSO: iPhone 7, 7 Plus PH release most probably in November
Anybody who would be traveling on Air Asia must not turn on their Samsung Galaxy Note 7 while on the plane. It must remain switched off until disembarkation.  Another prohibition mentioned by the advisory was that the device must not be checked in.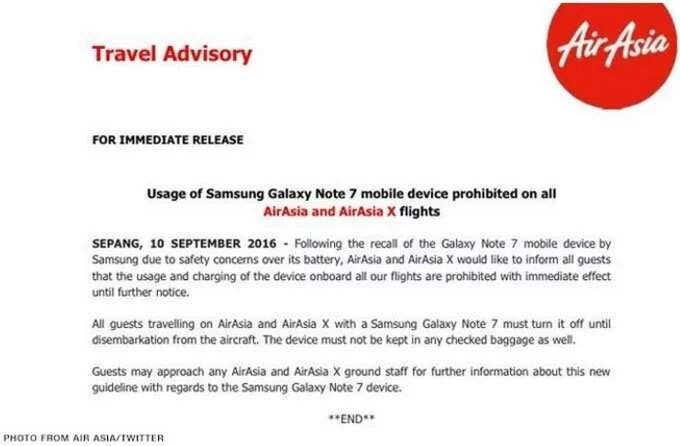 Samsung Electronics Co. Ltd. Issued a recall of its Galaxy Note 7 smartphones early of September because it was discovered that the device's batteries were "fire-prone."
About 2.5 million units were sold by the company. According to Samsung, it plans to replace all sold units. It will also be replacing units that are still in transit and those that are in stores.
READ ALSO: UP makes it to top 400 best universities in the world
Aside from Air Asia, Philippine Airlines (PAL) and Cebu Pacific have previously released advisories against the Samsung Galaxy Note 7.
PAL also stated that it will not be accepting as cargo shipment any Samsung Galaxy Note 7, whether the condition is used or brand new.
READ ALSO: To prevent Terminator future we must 'innovate conscientiously'
Source: Kami.com.ph