- Indonesian President Joko Widodo has announced on Monday that President Rodrigo Roa Duterte has okayed the execution of Mary Jane Veloso
- In his statement, Widodo had said that Duterte's exact words had been, "Please go ahead if you want to execute her"
- NUPL, Migrante International, and Veloso's family have expressed shock over the news, which remained unverified by the DFA as of press time
President Rodrigo Duterte had green-lighted the execution of Mary Jane Veloso, says Indonesian President Joko "Jokowi" Widodo in an interview on Monday, September 12.
Two days after the Department of Foreign Affairs (DFA) announced that Mary Jane Veloso has been 'indefinitely' taken off the execution list, Indonesian President Widodo had told the press that "President Duterte has given the go-ahead to proceed with the execution."
In his statement, Widodo said, "I have explained to [Duterte] about Mary Jane's situation and I told him that Mary Jane [has been found guilty] for carrying 2.6 kilograms of heroin. I also told him about the delay in the execution during the meeting."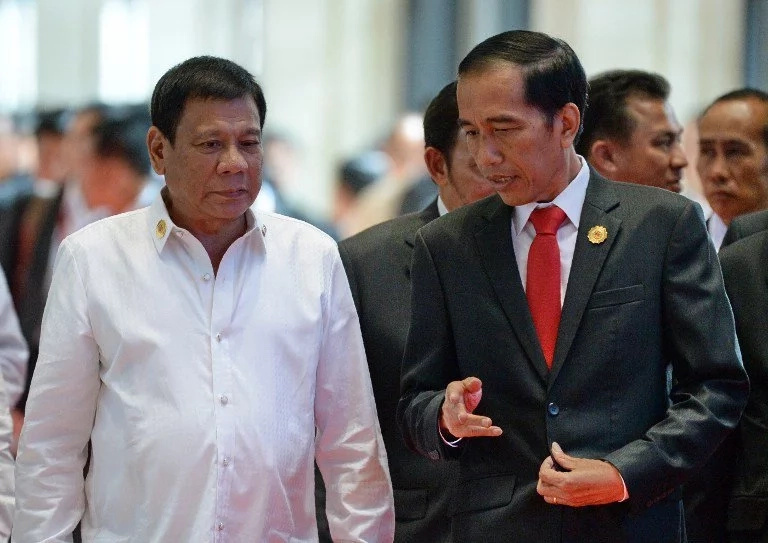 Reports also had it that according to Widodo, President Duterte had said, "Please go ahead if you want to execute her."
READ ALSO: Unpredictable Duterte slams the US but praises China during speech
During the interview, the Indonesian President had reportedly said that the legal process necessary for Veloso's execution will be followed up by Indonesian Attorney General Muhammad Prasetyo.
Veloso was arrested at Adisucipto Airport in Yogyakarta in April 2010.
Veloso has been taken off the third round of execution list prepared by the Indonesian Attorney General's Office (AGO) in April, as legal procedures continue in a separate but related case in her country. Veloso was also granted a stay of execution and removed from the execution list last year because her alleged boss had been arrested in the Philippines.
READ ALSO: More powers? Duterte says NO to additional powers for the executive
In clarification of the report, DFA spokesman Charles Jose had said in a text message, "That's contrary to his public pronouncements. I'll verify this with our concerned office."
The National Union of People's Lawyers (NUPL), which is helping Veloso and her parents in the Philippines, meanwhile refused to comment on the report pending "indubitable A1 confirmation."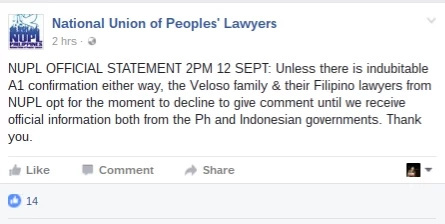 Migrante International, an alliance of organization helping OFWs and their families, together with Veloso's family have expressed shock over the news.
RELATED: Relief Felt in PH After Veloso's Execution Was Postponed Indefinitely
Source: Kami.com.ph