EDITOR'S NOTE: This column contains themes and images that may not be suitable for minors. Parental guidance is strongly advised.
CCTV footage of an armed hold-upper getting beaten up by two concerned citizens and a cashier had gone viral, with netizens applauding the citizens for their courage and mocking the hold-upper for his lack of presence of mind.
The intense video shows a hold-upper entering a shop and demanding to get money from the cashier. He then proceeded to threaten the two innocent civilians inside the shop and made them kneel on the ground.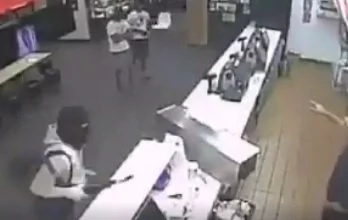 READ ALSO: Enthusiastic Pinoy dancer suffers brutal accident in Angono
After doing so, the hold-upper lost his presence of mind as he left his shotgun on the counter and proceeded to count his stolen money.
One of the citizens reacted quickly, attacking the hold-upper as he was counting his money. The other citizen helped out in beating up the careless robber.
The cashier then took the shotgun and approached the two citizens. One of the citizens took the shotgun and threw it back on the counter in order to prevent the robber from getting access to the firearm.
READ ALSO: Clumsy Pinoy security guard playing with his gun brutally shoots himself
Many netizens found it hilarious that the hold-upper prioritized counting the money instead of escaping as quickly as possible.
"Akalain mo maisip ng holdupper yung bilangin ang nakulimbat na pera sa harapan ng biktima. Habang ipinatong sa counter yung baril nya . Ano tawag sa mga kawatan na to?" a netizen said.
(Would you believe that this hold-upper thought of counting the stolen money in front of his victims after placing his gun on the counter? What do you call this kind of criminal?)
On the other hand, several online users theorized that the cashier was in cahoots with the robber because he brought the gun near the hold-upper who was getting beaten up.
SHARE this intense and thrilling video with your family and friends!
READ ALSO: Panalo 'to! Pinay drag queen shows off 'Bakulaw' version of classic hit
Source: Kami.com.ph