- President Rodrigo Duterte released a statement joining the celebration of  Eid'l Adha 
- Senators also joined the commemoration of the Muslims' Feast of Sacrifice
- Muslims commemorate  Eid'l Adha commemorating Ibrahim's sacrifice of his son and marks the end of Hajj
President Rodrigo Duterte together with some senators joined the Muslim community in their celebration of  Eid'l Adha (Feast of the Sacrifice) and called for peace and strength.
President Duterte sent his warm greetings to the Muslim community and said that the occasion "reminds us of the virtues that strengthen the very foundation of Islam."
He added citing the ongoing peace process in Mindanao: "It is my dream to see our people, regardless of beliefs, join hands in building a united country for our children and the next generation. Let this celebration stand as a reminder that real change requires sacrifice of our personal interests in favor of the common good of our citizens."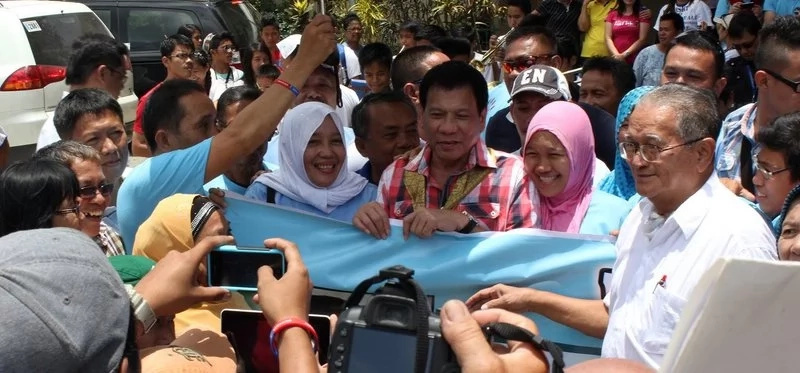 READ ALSO: Malacañang declares September 12 a regular holiday
Also joining the celebration is Senator Leila De Lima as she hoped for a just and humane society. She said: "Today, our Muslim community commemorates the sacrifice of Ibrahim when he demonstrated his strong faith and submission to the will of Allah. This meaningful feast reminds us all of the importance of solidarity and compassion for one another toward the achievement of our shared vision and goal. May the virtues of this solemn occasion continue to inspire the entire nation as we build an inclusive, just, and humane society."
De Lima also reminded everyone to keep the faith when faced with "tremendous pressures and problems." 
Senator Francis "Kiko" Pangilinan also joined the Muslim brothers and sisters in their occasion of reflection and said: "For our Muslim brothers and sisters, Eid'l Adha is an occasion to reflect on the importance of sacrifice as a pillar of their faith. This is also an opportunity for us to join them in reflection. For the spirit of Eid'l Adha can also be found in our willingness to sacrifice for our fellowmen, and to strive for the aspirations that bring us together as one people."
READ ALSO: Why Eid'l Fitr is more important than you think
Senator Grace Poe also released a statement wishing the Muslim community "a truly meaningful Eid'l Adha". She added: "May the sacrifices of our predecessors serve to inspire us to stand stronger together and work towards unifying our nation and pursuing the welfare of our people."
Muslims all over the world celebrate the Feast of Sacrifice that marks the end of  Hajj through offering animals in commemoration of the prophet Ibrahim's  sacrifice of his son to prove his faith.
READ ALSO: Pope Francis on comparing Islam to terrorism: It's not true, not correct
Source: Kami.com.ph