EDITOR'S NOTE: This column contains themes and images that may not be suitable for minors. Parental guidance is strongly advised.
CCTV footage of a security guard accidentally shooting himself while playing with his gun had gone viral, with the online community commenting about the importance of proper gun use and safety.
The video clip shows a Filipino security guard sitting on a chair and inspecting his gun, probably out of boredom.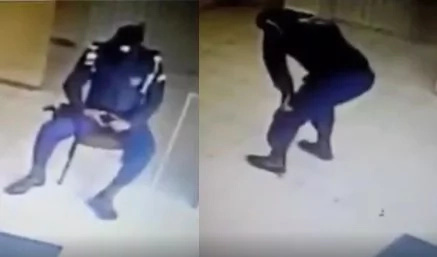 READ ALSO:Pinay caught stealing at a supermarket gets embarrassed and physically abused!
A few moments later, his gun suddenly goes off. Fortunately, the security guard was not hit on a critical part of his body.
However, he still had to go to the hospital to treat his injuries and would probably have to refrain from work for a long period of time while recovering from his gunshot wound.
Netizens who commented on the uploaded video wrote about the importance of being extra careful when touching a firearm.
READ ALSO: Brave off-duty policeman fights back against hold-uppers with deadly results
"Walang problema kalikutin ang baril kung me napansin kang kakaiba at malamang me sira. Pero siguraduhin mo muna na walang bala sa cylinder pag revolver at walang magazine at bala sa chamber pag auto pistol or rifle," a netizen posted.
(There is nothing wrong with inspecting your gun if you notice something strange about it or if you think that it has damage. But you should first make sure that there are no bullets in the cylinder if it is a revolver and no magazine and bullets in the chamber if it is an auto pistol or rifle.)
Other online users said that security guards should just find other less dangerous activities to help them pass the time.
"Sana Cell Phone nalang pinaglaruan ni kuya," an online user pointed out.
(He should have just played with a cell phone.)
Share this shocking video with your family and friends!
READ ALSO: Woman from China hysterically cries while watching her poisoned dogs' agonizing death
Source: Kami.com.ph