- A video of a woman hysterically crying while watching her dogs die went viral on social media
- The dogs were poisoned by security guards sent by a school which will be celebrating its anniversary the next day
- The video already gained more than 1 million views on Facebook
Aunt Zhao from China has been taking care of stray dogs for many years. She even provided them shelter and took good care of them.Recently, heartbreaking video who cries hysterically while watching her dogs' death went viral on Facebook.
Recently, a heartbreaking video of Aunt Zhao crying hysterically while watching her dogs' agonizing death went viral on Facebook. The post also shows disturbing  photos of the killed dogs in their tragic deaths.
Her dogs have been poisoned by security guards from Harbin Sports College.  The school had sent the guards to the shed to kill the dogs for the reason that they  will be having an "anniversary" the next day.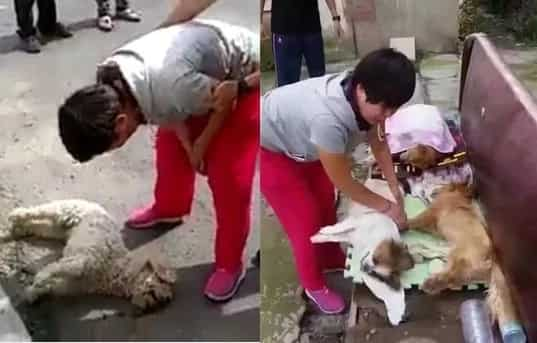 READ ALSO: Missing dog suffers brutal death at the hands of its abductor
A certain Adrian Shiva shared the unfortunate event on his Facebook account. He wrote: "I would describe how distraught Aunt Zhao is over the poisoning of all of her dogs and puppies -- dogs and puppies she took the time and energy and stress to try to create a safe place for -- but that's what the raw footage and photos are for."
Shiva also asked netizens to share the post and to take action. He added: "For the sake of the good people of China and their animals, who are victimized and silenced by the mobs of abusers and corrupt, lethargic authorities, the international community must get involved.
Please Share widely and take action. Expose China's shameful indifference towards their ongoing legacy of sheer animal cruelty."
Netizens were furious with the people who brutally killed the dogs. One Facebook user commented: "F**king, heartless, soulless bastards! God, I truly HATE U! These dogs did nothing wrong but be born in a heartless country full of ignorant savages! Why not implement spay and neuter programs? Why not adopt animal welfare laws so these poor dogs don't suffer!! I hope all u ignorant, selfish fucked up fucks rot and burn in HELL for eternity!!"
READ ALSO: Chinese Men Boil Dogs Alive In Barbaric Ritual For Impotents!
Another user expressed sympathy to Aunt Zhao and said: "Im sorry aunt zhao. I truely understand your pain. Its u who tolerated. I wud have killed them. How cud the college people do this? They supose to teach good to student. Do hell with Chinese law."
The post already gained more than 20,000 reactions on Facebook and the video has been viewed more than 1 million times.
READ ALSO: Spine-chilling Footage Of A Pitbull Mauling Tiny Dog And Owner!
Source: Kami.com.ph