-  President Rodrigo Duterte has promised that change is coming to the Philippines through his various platforms, which Filipinos are starting to feel now that he has been in office for over 70 days
-  A Facebook page under the name of his son, Baste Duterte, posted a piece of good news that Filipinos rarely hear these days - less delayed flights and the complete disappearance of the tanim-bala
- Instead of immediate arrest of passengers found with ammunition, the president has ordered them to take a profile test to clear them of links to any terrorist or criminal group or criminal intentions
News is rarely good - but are there instances that it can bring a smile, a genuine one, to our faces?
An unofficial Baste Duterte fan page posted on Facebook a photo of the arrival screens at Ninoy Aquino International Airport (NAIA) Terminal 3 with a message that is sure to make anybody relieved.
(photo credit: facebook.com)
"Alam nyo bang wala ng masyadong delay sa NAIA? As of now, on time po ang lahat ng arrivals. Wala narin pong tanim-bala. Pero hindi ito binabalita sa tv. Bawal yata ang good news sa media," was the enticing caption of the post.
READ ALSO: 118 OFWs laid off from Saudi Arabia, now back in Manila
(Do you know that there are not much flight delays in NAIA? As of now, all arrivals come on time. There are no more bullets planted into the passengers' luggage. But this is not reported on television. Looks like media is not allowed to tell good news.)
It has been known that Baste's father, President Rodrigo Duterte, has promised change for Filipinos through various projects. The intensifying war against drugs is not the only priority of the current administration, but other problems that will sure delight anyone once they are addressed and taken care of properly.
When he was still the mayor of Davao City, Duterte dared perpetrators of the tanim-bala scam to swallow the bullets found in their victims' belongings.
READ ALSO: Coming soon! NAIAX opens next month, expected to lessen travel time
Now that he has the highest position in the land, he has ordered that those who have ammunition in their possession to undergo an immediate profiling to clear them of any links to any terrorist or criminal group. They may also be cleared of criminal intention in carrying the bullet.
However, they may go on board as soon as possible as long as no firearm was found along with their ammunition.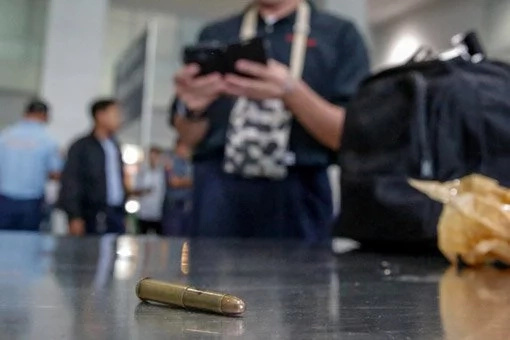 The previous administration has apprehended and charged in court those who were to found to have ammunition in their effects, despite the lack of a firearm.
READ ALSO: Will change come to NAIA? New agency for airport screeners after 'tanim bala' scare
Source: Kami.com.ph