- President Rodrigo Duterte vowed that "there will be a day of reckoning" for the perpetrators of the Davao blast
- Duterte said that he is not giving details on the investigation because of national security
- The president earlier declared a state of lawlessness after the tragic Davao blast that killed 14 and injured 70
President Rodrigo Duterte warned the attackers in the Davao blast that "there will be a day of reckoning"after 14 people were killed and 70 were injured.
According to Duterte, he would not disclose details regarding the developments in the investigation of the Davao blast that happened on September 2 because of national security.
Duterte said during his arrival speech yesterday at the DavaoInternational Airport: "It's too early to be talking about it."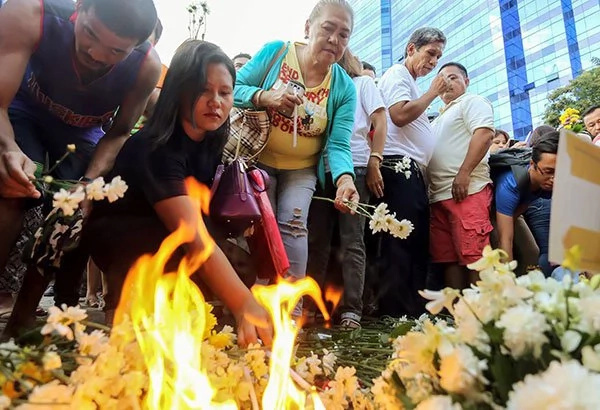 READ ALSO: PNP identifies Davao blast 'narco-terrorist' suspect
"It's a matter of national security but I guarantee you, there will be a day of reckoning," he stated.
The president who earlier declared a state of lawless violence did not cease attacks  "because of retaliation, reprisals."
The Philippines was given the chairmanship of the Association of Southeast Asian Nations for next year. According to Duterte, he would still assess Davao City to learn if the city where he served as a mayor for a long time would be ideal for the 2017 summit.
READ ALSO: Duterte threatens Abu Sayyaf: 'I will eat you alive'
Duterte stated: "That will depend on the security of Davao City. I would have to listen to the military and the police for an accurate assessment."
He added: "We do not want any bloody thing here, I'm sure. I have stated my case very clearly: We are in a state of lawlessness. I do not need any additional power... pang-takot lang iyan (that is just to scare)."
President Duterte declared a state of lawlessness on Sept. 3 after the bloody attack at the Roxas night market in Davao City.
Davao Mayor and presidential daughter Sara Duterte-Carpio has raised the bounty worth P3 million from the previous offer of P2 million for the capture of the Davao blast perpetrators.
READ ALSO: "Bato:" State of Lawlessness is NOT martial law
Source: Kami.com.ph