- Couple Aiza Seguerra and Liza Diño revealed that they wouldn't be proceeding with their IVF plan this November
- Their financial capability also weighed on the postponement according to the singer's Instagram post
- Aside from the finances, they couldn't leave the country for a long time due to their duties as government officials
Singer Aiza Seguerra and his wife Liza Diño shared on Instagram that they've decided not to push through with the vitro fertilization (IVF), ultimately postponing their plans on conceiving a child of their own.
To appease the curious minds of their followers, Seguerra explained that it will be hard for the both of them to leave the country since they were both appointed in government positions.
He also did not hide one of their main concerns which was the cost of the procedure. They admitted that they were not ready to produce that amount of money for now.
READ ALSO: Tattooed UP graduate cries foul after being discriminated at bank in Naga City
It wasn't all bad news for the duo since Diño's daughter, Amara, greeted them with a humorous comics. A dialogue which says 'Our baby is 1m pesos?' and 'Money is nothing, love is everything' made the couple smile.
At the end of his post, he clarified that they would still attempt to undergo IVF when they've both saved up enough money.
Someone in the comment section suggested that the procedure was available in the Philippines. The singer was kind to point out that since they were not being recognized as husband and wife in the country, it served as a hindrance for them.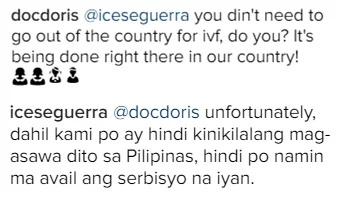 READ ALSO: Duterte to reassign corrupt officials in Mindanao
Even with the postponement of their original plans, the pair who married in 2014 will remain to be busy.
Seguerra and Diño would each have a three-year term as the chairman of the National Youth Commission (NYC) and chairperson of the Film Development Council of the Philippines (FDCP) respectively.
They were initially scheduled to fly to the United States this November. During an interview last July, the two disclosed that they would be spending around P2 million.
READ ALSO: Vice Ganda joins jaw-dropping "no panty" fashion trend
The egg cells would be coming from the singer who came out as a transgender in 2014 while the actress would be the surrogate mother.
IVF is one method for same-sex couples to conceive a child of their own even if there isn't a 100% guarantee of pregnancy right away. In IVF, a woman's egg will be fertilized outside her body and will be implanted in her womb.
Source: Kami.com.ph