- President Rodrigo Duterte declared that the government will be pursuing an "independent foreign policy"
- It means that policies that will safeguard national interests and will achieve goals within international relations environment will be implemented
- Duterte made the announcement when he arrived in Davao after the ASEAN Summit held in Laos
President Rodrigo Duterte announced on Saturday, Sept 10, that his administration will be pursuing an "independent foreign policy".
Duterte made the remark upon arriving in Davao City after he attended the ASEAN summit in Laos and a working visit to Indonesia.
An independent foreign policy means that the government will be adopting and implementing policies that are meant to safeguard the national interests and to achieve goals within international relations environment.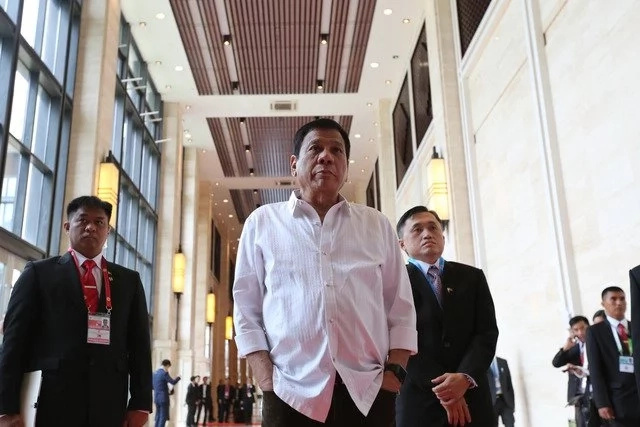 READ ALSO: Everything You Need To Know About Duterte's FEAR behind 3 ASEAN meetings
Duterte said: "In our relations to the world, the Philippines will pursue an independent foreign policy. We will observe and must insist on the time-honored principle of sovereignty, sovereign equality, non-interference and the commitment of peaceful settlements of dispute that will serve our people and protect the interests of our country."
The president added that he must insist on sovereign equality's time-honored principles, nonn-interference, and commitment to the settlement of disputes in a peaceful manner in order to best serve the people and protect the country's interests.
He added that during the 28th and the 29 thASEAN Summit and other related summits held  in Laos, his focused objective was advancing the interest of the country.
READ ALSO:  #Paasa: Andanar spreads false news on Duterte,Obama ASEAN meeting
He said: "I engaged the leaders of Asean and its dialogue partners on important regional and international issues that impact on peace, security, stability and prosperity of our region."
Duterte  has made it to the headlines and was hit by international critics and media when he made a negative remark against US President Barack Obama, which he later said was misinterpreted by the media.
He later stated that he regretted how his remarks were interpreted as a personal attack. However, he attacked US, discussing its atrocities against Filipinos during its colonial rule.
Duterte was also criticized for insulting other leaders and institutions like the United Nations which allegedly interfered with the country's war against drugs where hundreds were already killed.
READ ALSO: Duterte tells Obama he never cursed him
Source: Kami.com.ph