- Malacañang Palace clarified the statements of DOT secretary Art Tugade about the traffic in the metropolis that are misquoted by Philippine Daily Inquirer
- Inquirer's headline suggested that Metro Manila traffic is all in the mind of Filipinos
- The daily stick to its headline and article explaining that they simply quoted the department's secretary
Malacañang Palace called out Philippine Daily Inquirer for its "misleading" article about the statements of Department of Transportation Art Tugade about the Metro Manila traffic.

READ ALSO: DOT Secretary: 'Manila-Clark railway plan finally pushing through because of Duterte'
Jeannette I. Andrade's headline for Inquirer is "Metro Manila traffic just a 'state of mind'". The first few paragraphs read,
"IT'S ALL in the mind, a transport official said of the country's traffic situation.
It's the Filipinos' "state of mind" that actually worsens the country's traffic situation, Transportation Secretary Arthur Tugade maintained on Tuesday, adding that using the traffic as a convenient excuse for tardiness has become a habit."
The article implied that the traffic is "all in the minds" of Filipinos. This was met by irritated comments from netizens.
The Palace clarified Tugade's statement by the Presidential Communications Office posting the actual statement in Facebook.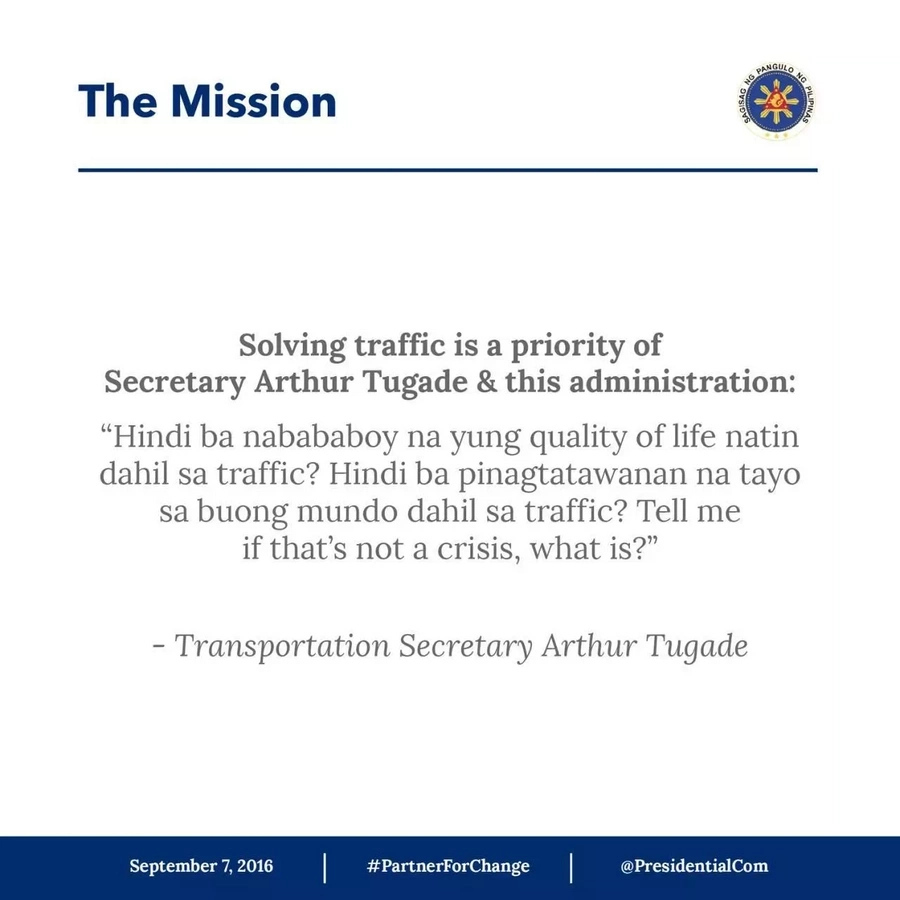 READ ALSO: DOT secretary willing to resign after Duterte's firing all gov't appointees
The daily stood by its headline saying that it simply quoted the department secretary. Moreover, the newspaper cannot correct impression of people.
"The Inquirer stands by its story pertaining to the Secretary's remarks which were part of his speech and which he later confirmed and even repeated in a chance interview when he was asked to clarify his statement," the daily said.
Meanwhile, Duterte supporters bashed Inquirer and called the major daily as biased media. Mocha Uson urged President Duterte to boycott the media for a string of misleading headlines the past few weeks.
READ ALSO: What DOTC chief Arthur Tugade has to say for NAIA mishap? Find out here
Source: Kami.com.ph